There is no secret that you should wear sunscreen every single day (rain or shine!) to prevent premature aging, pigmentation, tanning and reduce your risk of skin cancer. But finding the right formula for your skin can be a challenge. Here we have listed down some of Medicated Sunscreen, that may help you from sun tanning.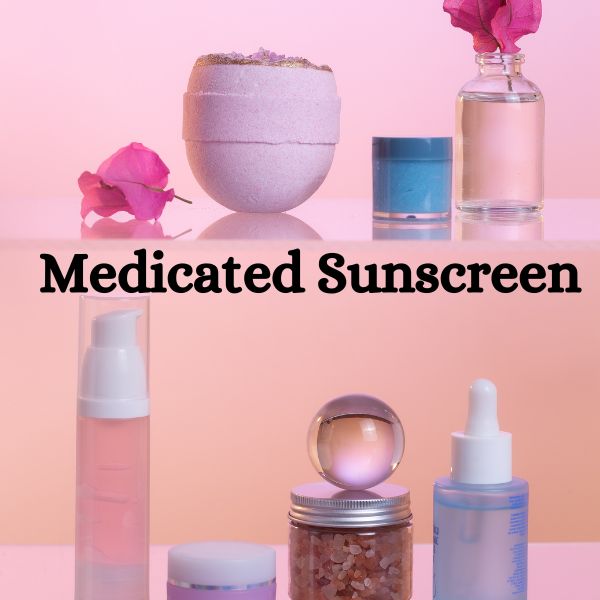 Sunscreen is a must for the summer season. However, it is even more important to choose a sunscreen which is free from harsh chemicals, suits your skin type and also budget friendly.
Most of Dermatologist recommends using at least broad-spectrum SPF 50 Pa++++ to compensate and make sure to look for a water-resistant, broad spectrum formula to protect against both harmful UVA/ UVB rays and reapply at least every two hours.
Many people complain that sunscreen makes their face feel sticky, flaky, or take on a ghostly white sheen-which is a problem, since if you don't like the way your skin looks and feels when you're wearing SPF, so here are Best broad spectrum sunscreen that are non greasy, amazing formula and silky matte finish, suitable for all skin types.
यह आर्टिकल भी पढ़ें ->Dr Sheth Ceramide and Vitamin C Oil Free Moisturizer – Review
The Top 10 Best Dermatologist recommendations Medicated Sunscreen available in the market, for all skin types – Oily, Dry, Combination, Acne Prone, Sensitive and Normal Skin types.
1 – ISDIN Fotoprotector Fusion Water Sunscreen SPF 50, 50 ml
Broad spectrum protection from UV Rays
Benefits of ISDIN Medicated Sunscreen
-Non- greasy and No white cast
-Can be used on wet skin
-Can be used safely near eyes
-Excellent as a make-up base, Sea friendly
यह आर्टिकल भी पढ़ें -> Casmara Facial Kit & Casmara Algae Peel off Mask – Review
2 – The Derma Co 1% Hyaluronic Sunscreen Aqua Gel
With Spf 50 Pa++++ For Broad Spectrum 50g
Benefits this Medicated Sunscreen
-Broad Spectrum Protection (PA++++).
-Protects Against Blue Light.
-Powered with 5 UV Filters.
-Non-Greasy & Fragrance-Free.
यह आर्टिकल भी पढ़ें -> Dot and key Sunscreen – Review
3 – La Shield Fisico Matte Sunscreen Gel SPF 50+ PA+++ 50gm
Benefits
-It has SPF 50+ & PA+++
-Enriched with Micronized Zinc Oxide.
-Provides UVA & UVB Protection
-Superior Matte Finish
यह आर्टिकल भी पढ़ें -> Dr Sheth Ceramide and Vitamin C Sunscreen – Review
-Up to 8 hours
-Water Resistant
-Lightweight
-No white cast
यह आर्टिकल भी पढ़ें -> Best Cleansing Oils
4 – Re'equil Oxybenzone And Omc Free Sunscreen SPF 50 PA+++ 50gm
Benefits above Medicated Sunscreen
-Ultra-light feel: Re'equil Oxybenzone & OMC Free
Sunscreen Lotion is an ultra-light formulation which is non-irritant and suitable for oily, acne prone and sensitive skin. It gives a matte look with advanced sun shield filters.
यह आर्टिकल भी पढ़ें ->Lip Pigmentation and Dark lips – Lip Balm
5 – Fixderma Shadow Sunscreen SPF 30+ Gel For Oily Skin Acne Prone- PA+ ++ Protection UVA & UVB 40 g
Benefits
-Broad spectrum protection.
-Non-greasy & Non-comedogenic.
-No white casting ,Hypoallergenic & For all skin types.
यह आर्टिकल भी पढ़ें ->Lip Lightening | Dark Lips | Lip Pigmentation (Medicated Lip Creams)
6 – Bioderma Photoderm MAX Creme SPF 50 + High Protection, Water Resistant & Invisible Texture 40ml
Benefits Bioderma Medicated Sunscreen
-Offers a very high UVA/UVB protection.
Activates the skin's natural defences and protects from risks of cellular damage and combats premature cutaneous ageing.
Ideal for dry sensitive skin, pale skin with freckles.
-Non-comedogenic
Fragrance – free
Water resistant
यह आर्टिकल भी पढ़ें -> Best Cleansing Oils
7 – Bioderma Photoderm Max Aguafluide SPF 50+ High Protection, Water Resistant & Anti-Shine Texture 40ml
Benefits this Medicated Sunscreen
-Very high UVB/UVA protection.
Ultra-light & Invisible finish.
-8 Hours Hydration & non-fragranced Aquatic Ecosystems.
High-tech sun protection reinforced against UVA.
-Hydrating ,Moisturising, ultra-light texture.
-Prevents UVA induced premature aging.
-Improve skin texture.
यह आर्टिकल भी पढ़ें -> Best Body Sunscreen in India
8 – Gosit Acne-UV Oil Free Gel,SPF 30 PA+++
Broad- Spectrum UVA/UVB, Water Resistant Sunscreen 30g SILICONE SUNSCREEN-
Acne – UV Gel is a broad spectrum sunscreen that protects the skin against UVA and UVB rays by providing physical and chemical barrier to sunlight.
Acne – UV Gel is a noncomedogenic which protects your skin from harmful rays.
This sunscreen lotion is suitable for normal skin and especially oily-acne prone skin.
यह आर्टिकल भी पढ़ें ->Lip Lightening | Dark Lips | Lip Pigmentation (Medicated Lip Creams)
9 – Aqualogica Glow+ Dewy Lightweight & Hydrating Sunscreen with SPF 50+ & PA++++
For UVA/B & Blue Light Protection & No White Cast – 80g
Benefits Aqualogica Medicated Sunscreen
-Protects from UV Rays & Blue Light Make way for a sun protector that also shields from blue light. Hydrating, Lightweight & Non-Sticky Say no to sticky sunscreen. Formulated with the benefits of Hyaluronic Acid, the Glow+ Dewy Sunscreen is extremely hydrating and feels light on the skin. It is non-oily, fragrance-free, color-free and doesn't clog pores and gives a glow to the skin.
यह आर्टिकल भी पढ़ें -> Cetaphil Moisturiser Review
10 – Glenmark Episoft AC Moisturizer with Sunscreen, SPF 30+
For Men and Women, 75 gms
Benefits above Medicated Sunscreen
-It is enriched with SPF 30+ that provides broad-spectrum protection against UVA/UVB rays. It is safe to be used on oily skin for both men and women. It has anti-hyperpigmentation properties that fade melanin creation, help even out skin tone and give your skin a radiating glow.
यह आर्टिकल भी पढ़ें -> Best Body Sunscreen in India
HOW TO USE Medicated sunscreen
-Apply liberally on skin, thirty minutes prior to sun exposure.
-The right amount for the face area is two lines of product spread over two fingers.
-2Hrs ,Re-apply every 2 hours to wet or dry skin, and after sweating, swimming or drying off.
These are the best Medicated sunscreen recommendations must for All the season.
यह आर्टिकल भी पढ़ें ->Lip Pigmentation and Dark lips – Lip Balm