Those who have given in on the new trend of double cleansing would definitely like this. Cleansing oils are more enjoyable due to their luxurious texture, makeup-removing ability, and skin-softening properties
And while cleansing balms are especially great for dry skin, all skin types can benefit from using one-either as part of a double-cleansing routine, or on its own.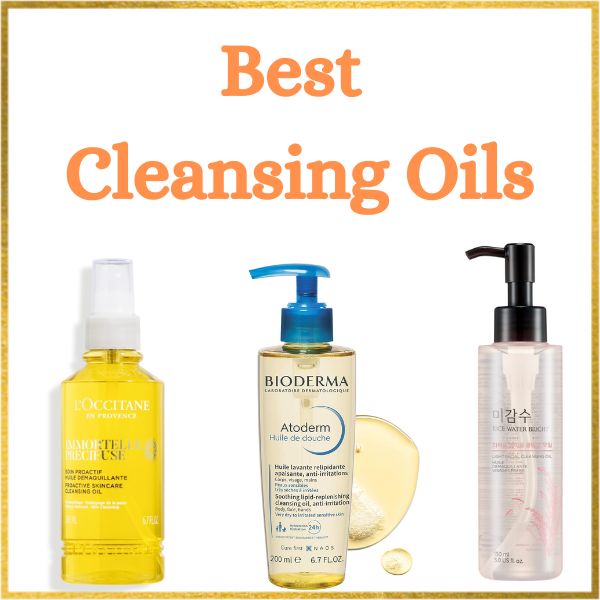 Not only oil cleansing reduce chronic blackheads, keep the skin's microbiome vibrant and healthy, and easily dissolve makeup, dirt and sunblock – but it can also make you feel like you're at the spa.
यह आर्टिकल भी पढ़ें ->Dr Sheth Ceramide and Vitamin C Oil Free Moisturizer – Review
9 Best Cleansing Oils and Balms
Here you can checkout the 9 best cleansing oils in India.
1- The Face shop Rice white bright Light cleansing oil
It has really light watery consistency, easily melts away waterproof makeup as well. Use it daily for double cleansing and you will noticed the improvement of your skin texture. It imulsifies so beautifully, leaving behind clean supple skin. These benefits make it one of Best Cleansing Oils available in market.
2- Bioderma Atoderm Ultra-nourishing Anti-irriatation Cleansing Oil 200ml
Bioderma product never harm your skin and always works as expected. A nourishing cleansing oil which has a gel like texture and fragrance which melts like a balm.
It leaves your skin soft and smooth after cleansing. If you want a gentle Cleanser you must give a try and I can assure you that this product won't fail your expectation.
यह आर्टिकल भी पढ़ें -> Casmara Facial Kit & Casmara Algae Peel off Mask – Review
3- Garnier Skin Naturals Micellar Oil-Infused
Cleansing Water 125ml
This micellar water is the best thing for taking off makeup.
The infused oil makes it so much easier to melt the makeup and remove it completely. It removes waterproof and stubborn makeup very quickly without any hassle. Small amount is enough.
4- Klairs Gentle Black Deep Cleansing Oil 150ml
It does not remove very stubborn makeup but will get rid of light everyday makeup and sunscreen. It has fragrance but it is not overpowering. It just feels like a spa when you massage it into the skin and is a lightweight cleansing oil.
It emulsify really well and does not leave oily residue after washing it off the face. Overall a good everyday cleansing oil. Definitely 100% recommended.
यह आर्टिकल भी पढ़ें -> Cetaphil Moisturiser Review
5- Suganda Squalane Cleansing Oil
Removes Makeup & Sunscreen, with Squalane, Hemp & 5 Vitamin E 50ml
Very light consistency, fluid, Very thin not thickly viscous. Emulsified really well,
Does not leave any oily residue after washing it off. But it is drying.
You will not want to use any face wash or creamy cleanser or any type of cleanser after using this.
It removes white heads, dirt and makeup effortlessly. Easily gets washed and suits your oily, acne prone skin. Loved it. Definitely going to double cleanse your face.
यह आर्टिकल भी पढ़ें -> Dot and key Sunscreen – Review
6- L'Occitane Facial Cleansing Oil 200ml
This is a miracle liquid.Took off your waterproof makeup on 2 pumps. Quantity is way lesser according to the price but it will gave a beautiful soft and clean finish after wash. I would suggest this over any micellar water anytime.
Gentle yet super effective.This is An very important part of your skin care routine. Double cleansing with this oil has give you visible results. You will have less acne, reduced blackheads and whiteheads, glowing skin, more elasticity and eliminates make up completely.
7- Dr. Sheth's Moringa And Vitamin C Cleansing Oil 50ml
It is a really great product in such an affordable range.
Emulsifies and washes off pretty quickly. If you keep massaging it for a longer time (5-10 mins) you can actually see the dirt coming out of your pores.
It removes make up and pollution easily. Also didn't clog pores or cause pimples.Love the light feel of the oil.After washing with water it never feels oily on skin nor dry. Its make skin perfect for your next skin care step.
यह आर्टिकल भी पढ़ें -> Dr Sheth Ceramide and Vitamin C Sunscreen – Review
8- Plum E-Luminence Simply Supple Cleansing Balm 90gm
It's a great cleanser, breaks the sunscreen and light makeup very easily, doesn't irritate or strips the skin off. This cleansing balm works really well in melting the makeup and emulsifies when you wash your face.
It works well like most of the expensive cleansing balms did and the quantity is good for the price. Recommended to use in double cleansing daily to remove the sunscreen and makeup. It would have been good if provided with spatula to scoop the product instead using finger.
यह आर्टिकल भी पढ़ें -> Tretinoin Cream Uses and Benefits
9- Bioderma Sensibio H20
Makeup Removing Micellar Cleansing Solution Face & Eyes Sensitive Skin 100ml
Biederman Sensio H20 Micellar Cleansing Solution is a lifesaver for your sensitive skin. It effortlessly removes makeup, even stubborn mascara, without any harsh rubbing.
My skin feels instantly refreshed and clean, without any trace of residue. A must-have for anyone with sensitive skin looking for a soothing and efficient makeup remover.
यह आर्टिकल भी पढ़ें -> Adivasi Hair Oil Review