Cetaphil Moisturizing Cream is a rich, fragrance-free moisturizer that delivers intense hydration and replenishes sensitive, dry skin. This is a unique formula with HELO* SYSTEM that binds water to the skin, preventing moisture loss. My honest Cetaphil Moisturiser Review is given below.
It's designed to provide immediate and long-lasting relief. This non-greasy formula absorbs quickly and goes to work right away, helping to leave dry skin soft and smooth to the touch. (*H- Humectant; E- Emollients; L- Lipids; O-Occlusive).It clams for 48 hours hydration.
यह आर्टिकल भी पढ़ें -> Casmara Facial Kit & Casmara Algae Peel off Mask – Review
Texture & Skin type
The texture of the Cetaphil moisturiser is light and it easily blends with the skin, it is fragrance free and non greasy which is the best part of this Cetaphil moisturiser. Cetaphil moisturiser is great for dry to combination skin also sensitive people, as it is not so creamy or very watery does not feel greasy.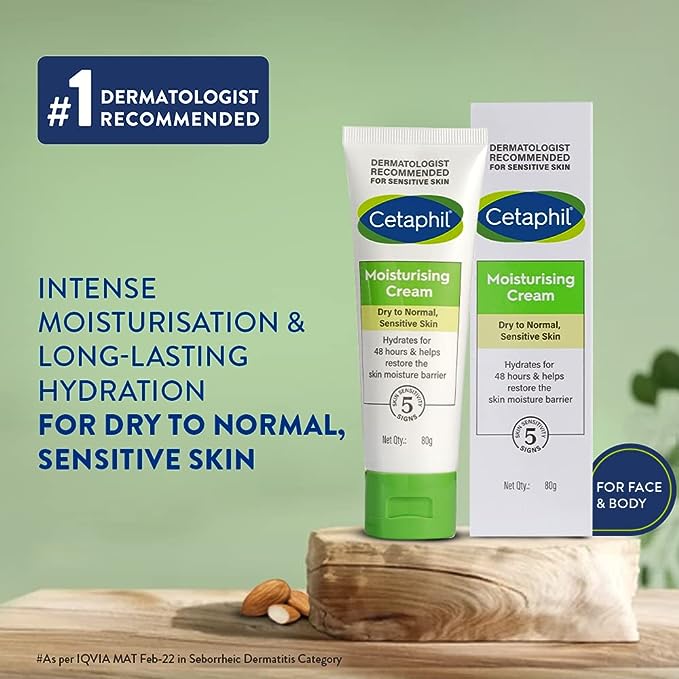 And it will calm your sensitive skin and locks in the moisture well. Gentle product. Not at all oily. Very mild fragrance. Skin remains smooth for a couple of hours. A cream with no side effects. Get baby soft skin with this Cetaphil moisturiser.
यह आर्टिकल भी पढ़ें -> Best Retinol Serum in India
My Experience (Cetaphil moisturiser Review)
I have oily combination sensitive skin on my face that surprisingly gets really dry during extreme climate changes. It used to get really confusing for me to tackle dry patches around the mouth and an oily t-zone at the same time while keeping my cheeks and neck safe from breaking out. Cetaphil Moisturing Cream solved this problem for me very gently.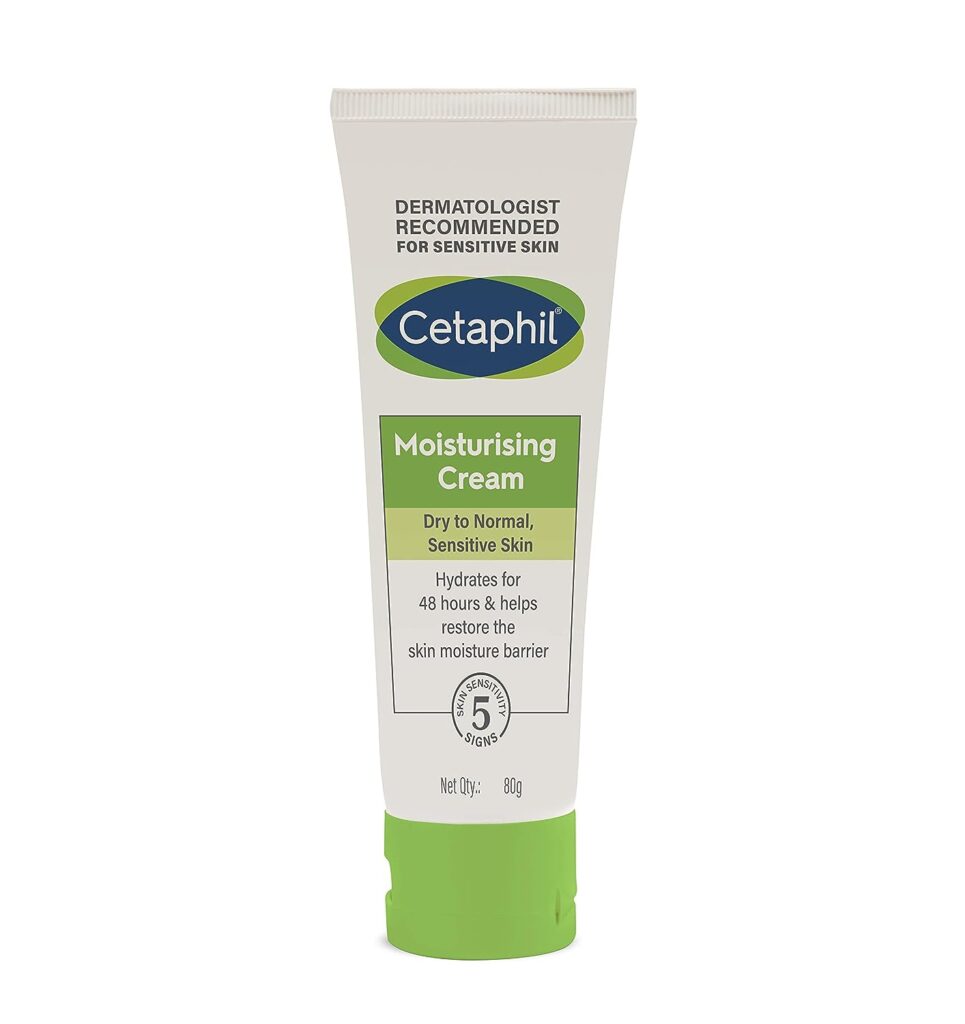 यह आर्टिकल भी पढ़ें -> Best Peptides Serum for Face
It has sunflower seed oil, sweet almond oil and Vitamin E along with other good stuff. I have not suffered from any breakouts, enlarged pores, dryness or unmanageable oily skin since I started using it. I like the fact that moisturiser does not have any fragrance. Cetaphil Moisturiser sits on your skin beautifully. Mostly dermat suggested Cetaphil moisturiser so don't worry at all. Definitely a big thumbs up for this Cetaphil moisturiser.
How to use Cetaphil moisturiser/Application
This can be used mainly before applying the makeup product and it keeps ur skin hydrating and moisturising for long n gives a nice finish to makeup.It is non-gressy and non- irritating and it will not clog your pores.Always apply after cleaning your face. The result will be satisfying.
यह आर्टिकल भी पढ़ें -> Tretinoin Cream Uses and Benefits
Recommendation
(Cetaphil Moisturiser Review)
Cetaphil moisturizing lotion is an excellent choice for individuals with dry skin, as it effectively hydrates and moisturizes. One of its notable qualities is its non-sticky and non-greasy formula, which enhances the overall user experience.
It is highly recommended to incorporate this lotion into your skincare routine after bathing or before bedtime. By doing so, you can wake up the following morning with soft and supple skin, providing a gentle and refreshing sensation.
यह आर्टिकल भी पढ़ें -> Dr Sheth Ceramide and Vitamin C Sunscreen – Review
Ingredients
Purified Water, Polyglycery|methacrylate & Propylene Glycol, Light Liquid Paraffin, Dicapryly Ether, PEG-5
Glyceryl Stearate, Glycerin, Dimethicone and Dimethicone, Cetyl Alcohol, Refined Almond Oil, Benzyl Alcohol, Tocopheryl Acetate, Acrylates/C10-30 Alkyl Acrylate, Disodium Edetate, Sodium Hydroxide, ALL-RAC-Alpha Tocopherol.
यह आर्टिकल भी पढ़ें ->Dr Sheth Ceramide and Vitamin C Oil Free Moisturizer – Review
Price
80 gm – Rs.508 (Actual Price)
250 gm- Rs.1015 (Actual Price)
Checkout Discount / Offer on Amazon .
Pros
.Non-greasy,Harmless Longlasting Hydration of Skin.
.Fragrance free
.Dermatologically tested
.Gental on skin,suitable for all skin types .
Cons
Expensive
I hope my Cetaphil Moisturiser Review and experience shared above will be helpful for you.
यह आर्टिकल भी पढ़ें -> Lakme Sunscreen SPF 50 Pa+++ (Review)