Dot and Key Vitamin C + E Face Sunscreen With SPF 50 PA+++
This is my honest review of Dot and key sunscreen with SPF 50 Pa+++.I have been using medicated sunscreen for a while, Now this time i thought to try dot n key sunscreen since i have been using all its products. No sunscreen was helping me earlier. Face always felt sticky and heavy.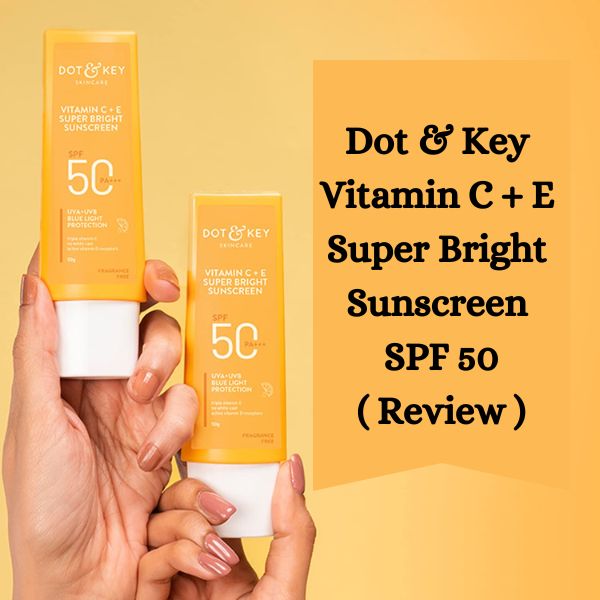 This sunscreen has everything what actually skin needed .This is probably the lightest sunscreen I have ever used. Here in this article Dot and key Sunscreen Review we will also discuss on Pros and cons of using it.
यह आर्टिकल भी पढ़ें ->Dr Sheth Ceramide and Vitamin C Oil Free Moisturizer – Review
Product Description/What it claims
Dot and key sunscreen provides you UVA, UVB & Blue Light protection. It Allows better Vitamin D absorption and Enhances skin glow & radiance. It actually Fights free radical damage to prevent early sign of aging and protects skin from harsh sun rays. Later on in this Dot and key Sunscreen Review, we will also check the price of this product.
यह आर्टिकल भी पढ़ें -> Casmara Facial Kit & Casmara Algae Peel off Mask – Review
It has triple vitamin c which fades sun spots, tanning, dullness ,uneven skin tone and pigmentation .It is also suitable for normal, oily, dry and combination and non comedogenic 100% safe to use. Dot and key sunscreen is water and sweat proof and last For upto 2 hours.
My Experience on Dot and key vitamin C +E sunscreen pa+++
(Recommendation )
यह आर्टिकल भी पढ़ें -> Dr Sheth Ceramide and Vitamin C Sunscreen – Review
Dot and key Vitamin C sunscreen gives a natural glow and brightens the skin, does not make my skin look greasy and sticky like other sunscreens did. The water like consistency makes so easy to use and blends right away into the skin like butter. It is gel based water light formulation and leaves no white cast on skin.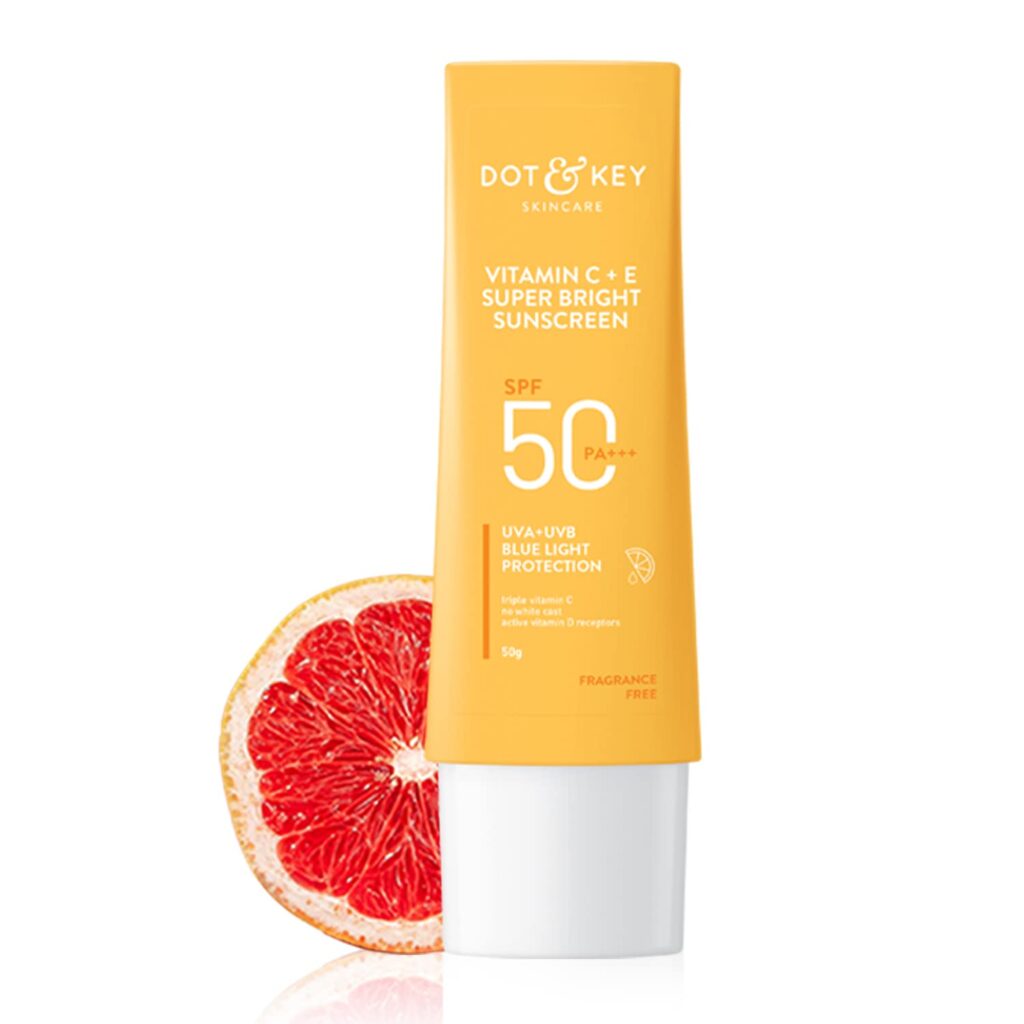 It absorbs completely and no oiliness. Literally no fragrance, leaves skin moisturized and really good under make-up too. It does not peel and the best thing i love about it is it's packaging which is so easy to use. l am using this since a two months now, it is a very good Sunscreen with Vitamin C + E SPF 50 PA++++ No white Cast, Blue Light protection.
Dot & key sunscreen is amazing never expected that I would get sunscreen which is 100 percent effective and affordable. I tried so many sunscreen but this suited my acne prone combination skin very well. Hope Dot and Key does not change the quality and formulation. Highly recommended you all.
यह आर्टिकल भी पढ़ें -> Cetaphil Moisturiser Review
Pros
.Affordable and Budget friendly
.no white cast
.Dewy finish and absorbs beautifully
.works well as a base for makeup and reapplication is easier.
.Comes with Vitamin C + E properties.
.Travel friendly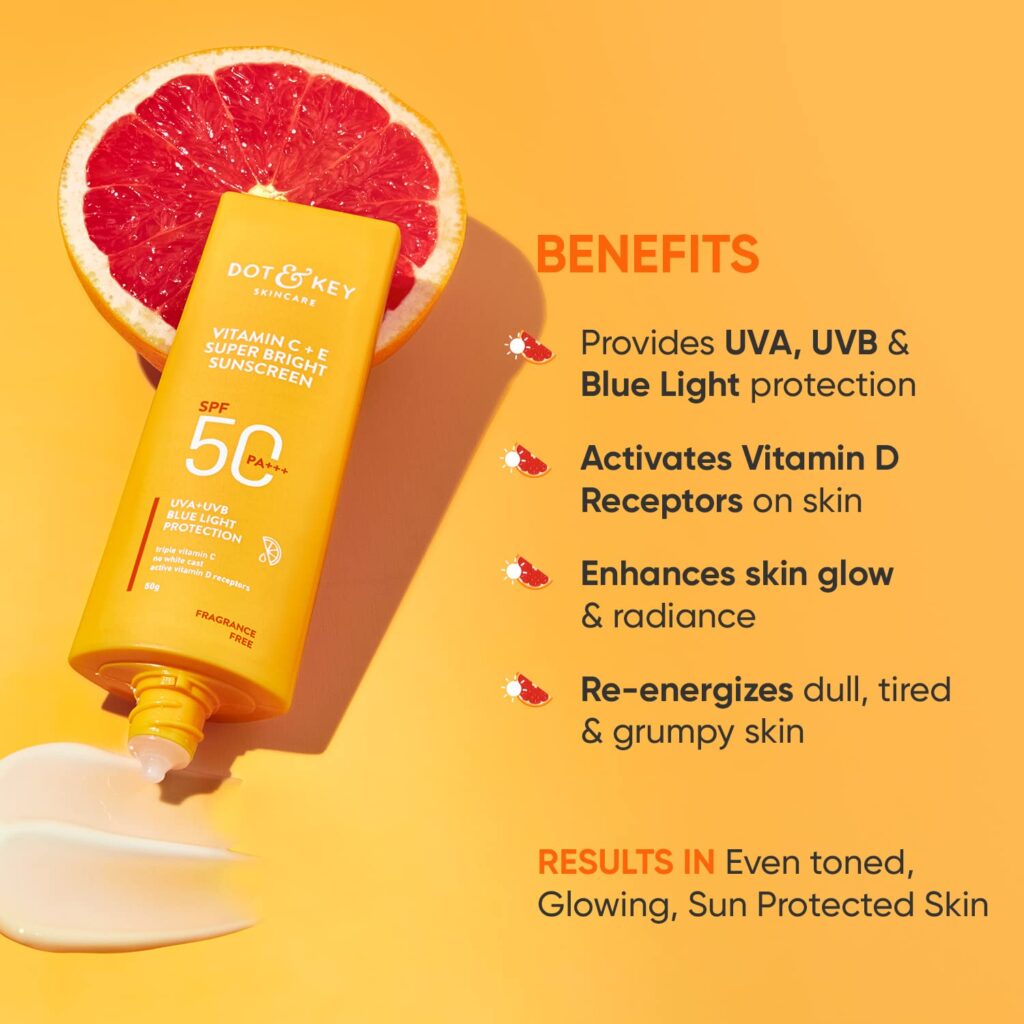 Cons
Quantity is very less .
यह आर्टिकल भी पढ़ें -> Tretinoin Cream Uses and Benefits
Shelf life-
2years
Price-
50gm – Rs.445
Checkout Discount / Offer on Amazon .
यह आर्टिकल भी पढ़ें -> Best Retinol Serum in India
Their are some other variants of Dot and key sunscreen which you should also try :-
1-Dot & Key Watermelon Cooling Sunscreen SPF 50 PA+ ++ For Moisturized Skin 50 gm
2-Dot & Key CICA Niacinamide Face Sunscreen SPF 50 PA+ ++, UV Protection for Oily, and Acne Prone Skin 50 gm
3-Dot & Key Swim + Sports Sunscreen SPF 50 PA+++ 50 gm
4-Dot & Key Strawberry Dew SPF 50 Pa+++ Broad spectrum Sunscreen,Stick on -20 g
यह आर्टिकल भी पढ़ें -> Best Peptides Serum for Face