Dr Sheth Ceramide and Vitamin C Sunscreen is one of the best sunscreen in an Indian market.It comes with SPF+ Pa++++ and it is formulated for indian skin.(Extremely light weight comes with very mild fragrance).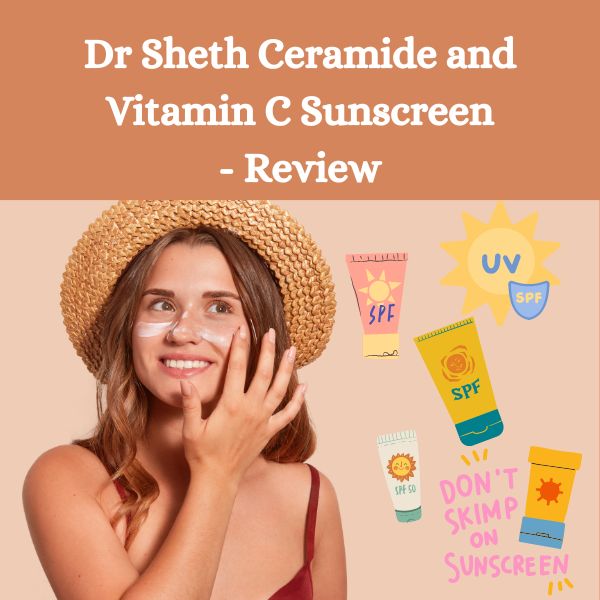 Product Description
Dr.Sheth's ceramide and vitamin C sunscreen is a remarkable addition to your skincare routine.It provides protection from UVrays and blue light ,prevents pigmentation, strengthens,repairs skin barriers and infusion of ceramides and Vitamin C gives dual benefits of hydration and brightening. Dr Sheth Ceramide and Vitamin C Sunscreen has physical and chemical filters ,suitable for all skin types.
यह आर्टिकल भी पढ़ें -> Tretinoin Cream Uses and Benefits
The sunscreen has very smooth creamy texture and It gives fresh look and balances the moisture in your skin. It does not sting in your eyes. No fragrance and does not give any acne's to your skin.
So Affordable, such a very light good formulations, gets absorbed into the skin immediately, does not feel heavy ,leaves no white cast and non greasy. It protects my skin from the harsh sun rays and prevents sunburns and tanning and skin feels smooth, soft ,hydrated and glowing after using it.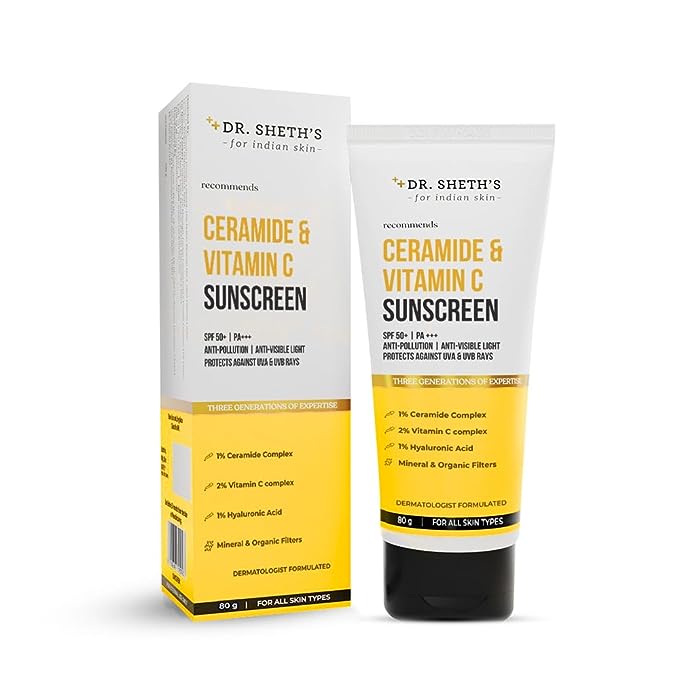 Tip-
I would highly recommend Dr Sheth Ceramide and Vitamin C Sunscreen to everyone who wants to enjoy the sun without damaging their skin.
Combine your sunscreen with Vitamin C serum for more sun protection if you get tan easily.
यह आर्टिकल भी पढ़ें -> Best Retinol Serum in India
Recommendation
Key Ingredients:
1% Ceramide complex: Strengthens skin barrier.
2% Vitamin C complex: Prevents micro-pigmentation.
1% Hyaluronic acid: Hydrates the skin.
Complete Ingredient List:
Aqua, Titanium Dioxide, Ethylhexyl Methoxycinnamate, Butyl Methoxydibenzoylmethane, Octocrylene, 1,3 Butylene Glycol, Lecithin, Phenoxyethanol, Sodium Polyacrylate, Glycerin, Zinc Oxide, Xylitol, Terminalia Ferdinandiana Fruit Extract, Phospholipids, Caprylic Acid, Glyceryl Stearate, E-Ascorbic Acid, Dicaprylyl Carbonate, Hyaluronic Acid, Helianthus Annuus (Sunflower) Seed Oil, D-Alpha Tocopheryl Acetate, Ceramide NP, Ceramide AP, Ceramide EOP, Phytosphingosine, Cholesterol, Sodium Lauroyl Lactylate Calendula Flower Extract, Aloe Barbadensis Leaf Juice, Dimethicone, Sodium Benzoate, Sodium Levulinate, Phenoxyethanol, Allantoin, Melanin.
Price – Rs.499/-
Net weight – 50 gms
यह आर्टिकल भी पढ़ें -> Best Peptides Serum for Face