The focus on head-to-toe skin health has never been greater and as always, a stellar skincare routine is underpinned by daily SPF for any exposed area. If you're putting hard work and effort into your facial routine, the rest of your body needs the same level of TC to prevent fine lines and hyperpigmentation caused by UV damage. To tackle the hot sun we have listed here Best Body Sunscreens t protect from sun damage and skincare.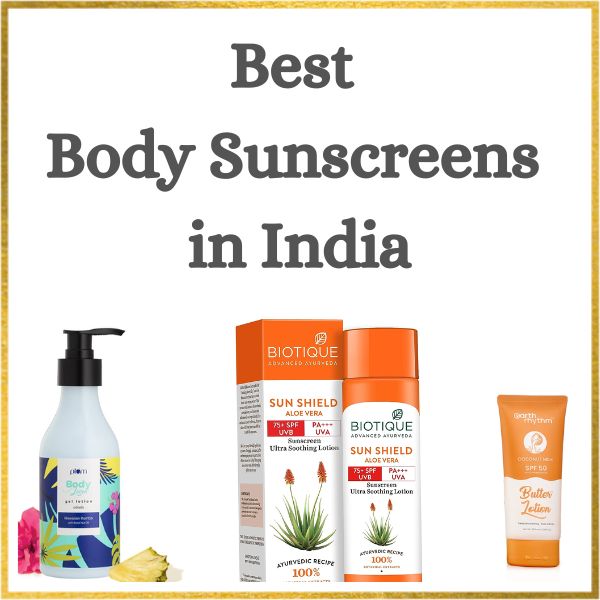 So, why it is crucial to use body sunscreen on a daily basis to maintain skin health and your glow.
So here are Best Flawless Daily Body Sunscreen which is the first line of defense against UV damage
यह आर्टिकल भी पढ़ें ->Dr Sheth Ceramide and Vitamin C Oil Free Moisturizer – Review
1- Pulp Sunday Everyday Body Sunscreen + Moisturiser (SPF 50)
No White Cast for fine lines, wrinkles suitable for all skin tones 500 ml
Benefits
It has avocados which moisturizes & reduces inflammation in your skin. Blackberries strengthens
skin barrier and Retinal works on fine lines & wrinkles.
2- WishCare SPF50 Sunscreen Body Lotion –
Broad Spectrum – UVA & UVB Protection with No White Cast – With Carrot Seed & Raspberry
For Men & Women – 200 MI
यह आर्टिकल भी पढ़ें -> Casmara Facial Kit & Casmara Algae Peel off Mask – Review
Benefits
This Body Lotion is a nearly weightless formula that goes on silky smooth; never greasy. It gives no white cast and is free from chemical filters like OMC & Oxybenzone which makes it reef and ocean safe. Niacinamide, Carrot Seed & Raspberry which gives you even skin tone and work as an anti-oxidant for your skin complementing the benefits of SPF
Protection and repairing your skin.
यह आर्टिकल भी पढ़ें -> Best Cleansing Oils
3- Vaseline Healthy Bright Sun Protection Body Lotion SPF 30 400 ml
Daily Moisturizer for Dry Skin, Gives Non-Greasy Glowing Skin
Benefits
Reduces tan lines in just 7 days. (Based on clinical study, 2013), 2-in-1 Lotion – With Multivitamin Formula that repairs skin damage and SPF 30 that protects skin from harsh sun rays. Provides up to 30X Sun Protection. Gives even-toned, glowing skin. Fast absorbing and non-sticky lotion best suited for summers. Smart pump quick-lock technology unlocks and locks with no mess.
यह आर्टिकल भी पढ़ें -> Dot and key Sunscreen – Review
4 – SunScoop Hydrating Face & Body Fluid Sunscreen
SPF 60 PA++++| UV Filter Zinc Oxide | Rosemary, Aloe Vera & Chamomile Extracts | Broad Spectrum, No White Cast, Non-Comedogenic, Quick Absorbing | 125ml
Benefits
SPF 60 | PA ++++ | Offers high sun protection against UVA & UVB rays. Suitable for all skin types, Lightweight, quick absorbing sunscreen that protects, hydrates and moisturises the skin.
यह आर्टिकल भी पढ़ें -> Dr Sheth Ceramide and Vitamin C Sunscreen – Review
Infused with Rosemary Extract for anti-inflammatory and skin calming properties & Chamomile to reduce signs of aging.
5- NIVEA SUN Protect and Moisture 75ml SPF 50 Sunscreen PA+++
UVA – UVB Protection System Vitamin E + Moisture
Benefits
Get instant protection from harsh sunrays with NIVEA. Protect and Moisture Sun Lotion SPF 50.Its fast absorbing formula with advanced collagen protection prevents wrinkles. The non-greasy and non-oily formula is also water resistant. NIVEA Sun Lotion, SPF 50, with UVA & UVB Protection, Water Resistant Sunscreen for Men & Women, 75 ml. Skin compatibility dermatologically approved.
6- RENEE Glowscreen Spf 50 Sunscreen Spray – 50ml,
Pat+++ for Uva & Uvb Protection, Enriched With Hyaluronic Acid & Vitamin C| Lightweight, Non Greasy, Quick Absorbing With No White Cast.
यह आर्टिकल भी पढ़ें -> Cetaphil Moisturiser Review
Benefits
It has anti-tanning properties, comes in Hydrating spray sunscreen with SPF 50 & PA++++.
RENÉE Dewy glow gives no white cast. It is Weightless, non-sticky & non-greasy. Shields against UVB/UVA Anti-tanning properties. It Prevents sunburn and Long-lasting protection. Suitable For all skin types and Combats photoaging.
7- Lotus Herbals Safe Sun Anti Tan Body Lotion SPF 25 PA+++ with Aloe extracts
यह आर्टिकल भी पढ़ें -> Best Retinol Serum in India
Benefits
It Prevents skin-tan due to UV rays helps maintain PH balance of skin and provides day long moisturisation Improves skin texture and Aloe Vera with moisturising properties. Protects from UVA/UVB long moisturising and Prevents from tanning and skin darkening. It Improves skin tone suitable For all skin types .
8- Biotique Sun Shield Aloe Vera 75+ SPF Sunscreen Ultra Soothing Lotion, 190ml
Benefits
This nutrient-rich lotion protects skin with broad spectrum SPF 75 UVA/UVB sunscreen Ingredients: Aloe vera Gel, Margosa Bark, Nut Grass Seeds, Sunflower Oil, Kulanjan Fruit Purified water QS.
यह आर्टिकल भी पढ़ें -> Best Peptides Serum for Face
Apply liberally before sun exposure. Reapply, as needed, after swimming or perspiring activities.
9- Plum BodyLovin' Hawaiian Rumba Body Lotion
Body Sunscreen with SPF 44 PA+++ | All skin types | Fresh Beachy Fragrance | 100%
यह आर्टिकल भी पढ़ें -> Tretinoin Cream Uses and Benefits
Benefits
Powered with SPF 44 PA+++ that fight against UVA & UVB rays. It is Non-greasy & non-sticky texture. It Comes in the bestselling Hawaiian Rumba fragrance and Enriched with Aloe Vera extract to help to soothe, cool & nourish skin.100% vegan, free of Phthalates, Parabens & animal-derived ingredients Sun Sunscreen Kissed.
यह आर्टिकल भी पढ़ें -> Tretinoin Cream Uses and Benefits
10- WOW Skin Science Sunscreen SPF 55 PA+++
Matte Look Ultra Light | Broad Spectrum- UVA& UVB Protection |No White Cast | With Raspberry rich in Vitamin C, Avocado, and Carrot Seed Extract
Benefits
It is a lightweight formulation that is non-greasy. No, you don't have to worry about whitish, chalky skin because it has a non-streaky and non-chalky texture that does not weigh down your skin.
It spreads evenly and dries quickly without clogging your pores to form a transparent film that shields your skin. It offers broad-spectrum protection from harmful UVA & UVB rays and photo damage.
Protects skin from UV radiation, inhibit signs of aging, neutralize photo damage, soothe redness and prevent dryness
यह आर्टिकल भी पढ़ें -> Lakme Sunscreen SPF 50 Pa+++ (Review)
11- Earth Rhythm Coconut Milk Butter Body Lotion SPF 50 PA+++!
Soothes Skin, Hydrates & UVA & UVB Sun Protection | for All Skin Type Men & Women – 200 ml
Benefits
Rich in Vitamin C, it helps maintain skin's elasticity and flexibility. The added benefit of SPF 50 provides the skin long-lasting protection from the sun's harmful UVA and UVB rays.
Coconut Milk intensely hydrates the skin by locking in all the moisture. It even helps calm irritated skin, making it feel soft and supple.
These are Best Body Sunscreen in Indian market and suitable for all skin types.
यह आर्टिकल भी पढ़ें -> Adivasi Hair Oil Review