All mamaearth products are harmful chemicals free & all natural. Also Mamaearth is 100% plastic positive. They recycle more plastic than they use. No matter what your skin type is, a moisturiser is an indispensable part of any skin care routine.
However, it is even more important to choose a moisturiser which is free from harsh chemicals, suits your skin type and is also budget friendly and if you thought that toxin free products are always costly then let us break the myth as in this article I am going to share with you my Honest experience of Mamaearth Bye Bye Blemishes Face Cream moisturiser which is 100% safe to use.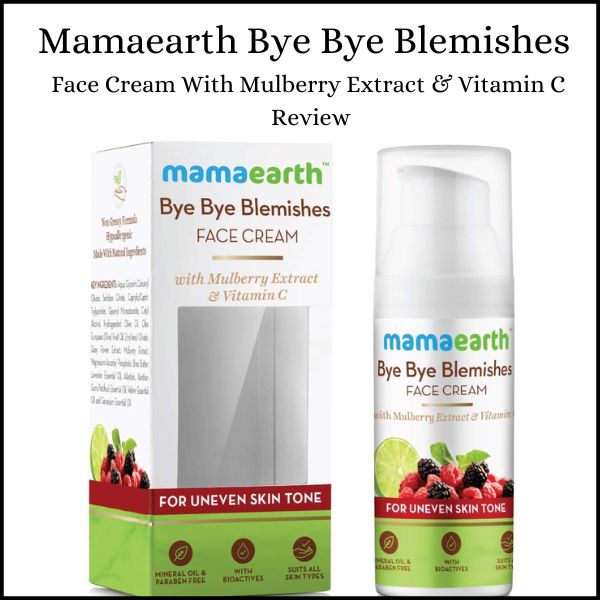 Product Information ( Mamaearth Bye Bye Blemishes Face Cream )
Mamaearth Bye Bye Blemishes Cream contains Daisy Flower, Mulberry Extract, Vitamin C. It lightens scar and helps in removing blemishes making skin tone even. It also helps with the hyper pigmentation and lightens dark spots naturally. Along with that it is free from all harmful toxins like parabens, SLES, Mineral Oils etc. All mamaearth products are harmful chemicals free & all natural.
यह आर्टिकल भी पढ़ें ->Lip Lightening | Dark Lips | Lip Pigmentation (Medicated Lip Creams)
Mamaearth Bye Bye Blemishes Face Cream evens the skin tone and makes the skin glow. It has a non-greasy formula which makes this cream lightweight. High in antioxidants, the powerful ingredients in the cream help in reducing pigmentation. The cream restricts melanin deposits thus, reducing spots & acne marks on the skin.
The magical ingredients that make Bye-Bye Blemish Cream so effective are:
1. Mulberry Extract: This is rich in Vitamin A, Vitamin E, and carotenoids, and has potent antioxidant properties. It helps in reducing the appearance of scars, keeps the skin smooth and young, and reduces age spots due to these antioxidant properties.
यह आर्टिकल भी पढ़ें -> Casmara Facial Kit & Casmara Algae Peel off Mask – Review
2. Licorice Extract: Licorice extract brightens the skin in another way, too. It contains liquiritin, an active compound that helps to disperse and remove existing melanin in the skin. In other words, not only can it help prevent new spots from forming, but it can also fade existing ones.
3. Daisy Flower Extract: Known as Bellis Perennis, this extract has a rich and renowned history in skincare. It carries a unique combination of polyphenols that naturally suppress melanin production, reduce the appearance of dark spots and lighten and brighten the complexion naturally.
यह आर्टिकल भी पढ़ें ->Simple Mehndi Design – New 2023
4. Vitamin C: This incredible antioxidant and anti-inflammatory nutrient are known to improve skin tone and texture, hydrate the skin, and reduce signs of aging. Adding vitamin C to your skincare routine can not only brighten your complexion but also protect against skin damage caused by sun exposure and harmful free radicals.
Ingredients list of Mamaearth Bye Bye Blemishes Face Cream
Aqua, Caprylic Capric Triglyceride, Propanediol, Glyceryl Monostearate, Niacinamide, Cetearyl Octanoate, Octyl Palmitate, Cetyl Alcohol, Hydrogenated Polydecene, Daisy Flower Extract, Diethylhexyl Carbonate, Cetyl Ricinoleate, Butyloctyl Salicylate, Titanium Dioxide, Alumina, Stearic Acid, Polyhydroxystearic Acid, Brassica Seed Oil, Liquorice Root Extract, Polyglyceryl-3 Disostearate, Marshmallow Root Extract, Rice Bran Extract, Mulberry Extract, Acrylates/C10-30, Alky| Acrylate Crosspolymer, Tetrahydrocurcumin, Potassium Cetyl Phosphate, Acacia Senegal Gum, Xanthan Gum, Pentaerythrityl Distearate, Vitamin C, Caprylhydroxamic Acid, Phenethyl Alcohol, Glycerin, Sodium Hydroxide, IFRA Certified Allergen Free Fragrance.
यह आर्टिकल भी पढ़ें -> Dot and key Sunscreen – Review
My Honest Experience
on Mamaearth Bye Bye Blemishes Face Cream
I Have been using this Mamaearth Bye Bye Blemishes Face Cream since 2020. It is very effective, it is great for all skin types, non-sticky and affordable. For some time, I have stopped using this product and tried out other products and I have noticed that I came to knew that I made a big mistake replacing the old time fav product with another one. So, I ordered once again and here I am scribbling down my review after 2 weeks. My acne is getting better. The bumps on my forehead is gradually decreasing.
यह आर्टिकल भी पढ़ें -> Best Cleansing Oils
I am stress free now. I get very worried when it comes to my skin. Pimples, ache, blemishes, dark spots, pigmentation and blackheads are my go-to gift on my skin which I terribly hate it. Who wants that, right? I am back to this product and will forever stay by her side.
Mamaearth Bye Bye Blemish cream really worked for me. I have used this for 1 month (twice a day) it really helps to fade away my acne scars and redness a lot, also improves my skin texture and brightes my skin complexion too. It has non greasy & non sticky formula. It helps to control your sebum for a long time if you have oily skin. It does reduce hyper pigmentation and blemishes too. Packaging was really nice. After using it my face feels really soft.
यह आर्टिकल भी पढ़ें ->The Derma Co Sunscreen – Review
Mamaearth Bye Bye Blemishes Face Cream light, spreads evenly on the skin and gets absorbed instantly. I have seen a significant difference in my skin and it has a glow from within. This cream actually working for me the best cream ever trusts me friends this cream working well very good formula nothing bad about this cream. Best face cream for removal of blemishes I have used till date. For best result apply pea size amount of cream twice daily. It smells so good and does not give oily look. The packaging is also nice.
यह आर्टिकल भी पढ़ें -> Best Body Sunscreen in India
My skin is oily with breakouts, but dries up significantly sometimes. had used several moisturizers before but it would aggravate the breakouts. When I came across Bye Bye Blemishes, I thought to give it a try and I have not disappeared at all. The moisturizer is light but effective for my skin and keeps blemishes in check.
Go for it if your sky is dry, pigmented. Mamaearth Bye Bye Blemishes Face Cream has really reduced the uneven skin tone and giving me a natural look. Totally Recommended this cream suitable for all skin types. Go for it.
यह आर्टिकल भी पढ़ें -> Garnier Vitamin C Serum Review
How to use Mamaearth Bye Bye Blemishes Face Cream
Step 1: Apply twice a day to freshly cleansed skin, starting from the neck, and working your way up to the face.
Step 2: Massage in an upward motion until the cream gets completely absorbed into the skin.
Step 3: Layer it up with sunscreen with a minimum of SPF 50, if applied during day time.
Price –  Rs.471.00 for 30 gm
Check out Discount / Offer
यह आर्टिकल भी पढ़ें -> Innisfree Intensive Triple Shield Sunscreen SPF50+ PA+++ ( REVIEW )
Pros
– Light creamy texture and easy to apply and do not make any kind of irritation for our non-greasy.
– Packaging is really good travel friendly.
– Budget friendly
– No harmful chemicals
Cons
Wonderful product but quantity is very small I did not expect the bottle size.
Check out Discount / Offer
यह आर्टिकल भी पढ़ें -> Cetaphil Bright Healthy Radiance Night Comfort Cream ( Review )