Himalaya is always being my fav and trusted brand for any product. I liked the entire formulation of this Himalaya under Eye Cream. Himalaya Herbals Under Eye Cream claims that it helps to lighten and tighten the skin under the eye.
It is infused with herbal and natural ingredients which help to prevent fine lines, lighten dark circles, even the skin tone and tones the under eye area.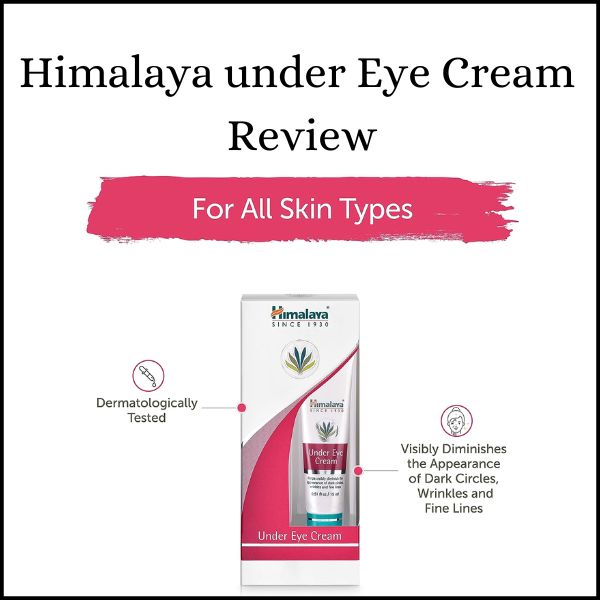 Product Description of Himalaya under Eye cream
The composition is made with natural extracts which do not harm the eye. Himalaya Herbals Under Eye Cream keeps the under eye area super soft, supple, moisturised and healthy skin looking. It is a perfect herbal based trusted Himalaya product.
यह आर्टिकल भी पढ़ें -> Dove Intense Repair Shampoo – Review
My Experience and Recommendations
on Himalaya under Eye cream ( Review )
I have tried really expensive eye creams like Lancôme and Clinique since I have really puffy eyes and I am genetically prone to getting dark circles. I read the reviews and they were nice so I ended up buying it but honestly Himalaya under Eye cream is magical.
यह आर्टिकल भी पढ़ें -> Garnier Vitamin C Serum Review
I have never used eye creams before so I had a little doubt in my mind about this one but as soon as I started using it, in a week I saw considerable changes under my eye.
It lightened my dark circles and reduced the fine lines near my eyes. Its hydrating formula is all you need. This is one of the eye creams that does the job. For those with a dry under eye, this is amazing as it provides much needed moisture.
यह आर्टिकल भी पढ़ें -> Innisfree Intensive Triple Shield Sunscreen SPF50+ PA+++ ( REVIEW )
The consistency of this eye cream is little bit thick. Lasts for almost over a month so very reasonably priced. Made with natural product. This is one of the eye creams that does the job.
I have started using Himalaya under Eye cream for a quite long period of time this one actually has the best formula, you just need to apply this on regular basis, bedtime is the best timing as this cream works wonder overnight.
यह आर्टिकल भी पढ़ें -> Cetaphil Bright Healthy Radiance Night Comfort Cream ( Review )
Does what it claims it has reduced my dark circles in 4 weeks. It instantly covers the dark circles and makes you look more refreshed.
Highly recommending for students and employees who work in front of computer overnight. Himalaya is always being my fav for any product. And this under eye cream really works. No cream or product will give you complete result but yes it lightens up your skin and this works very effectively.
यह आर्टिकल भी पढ़ें -> Mamaearth Bye Bye Blemishes Face Cream With Mulberry Extract & Vitamin C ( Review )
I have seen so many other creams in the market and online as well that claims that u will get visible results in wrinkles and dark circles. But why to use so much money on expensive products when u can get the same results in a very cheap price.
यह आर्टिकल भी पढ़ें -> Lakme Lumi Skin Cream ( Review)
Himalaya under Eye cream is my first purchase of this product and I happy with the results. Highly recommended best under eye cream ever with very cheap price.
यह आर्टिकल भी पढ़ें -> Best Cleansing Oils
Ingredients list of Himalaya under Eye cream
Cipadessa baccifera Bergenia ligulata Triticum vulgare
Price – Rs.225.00 for 15 ml
Check out Discount / Offer
यह आर्टिकल भी पढ़ें ->Simple Mehndi Design – New 2023