Many products are high we use for moisturizing our skin, Lakme Lumi Skin cream is the new addition to my house of beauty bank. The main and most unique feature about this one is it moisturise our skin along with highlighting effect which makes it different from others. My younger sister suggested me so i have tried this Lakme Lumi Skin cream.
This lakme lumi cream is a moisturiser with highlighter and it gives a 3D glow. Lakme lumi Skin cream enriched with hyaluronic acid and Vitamin B3. This moisturiser will hydrates your skin for up to 8 hrs while the shimmer particles will give you an instant luminous makeover.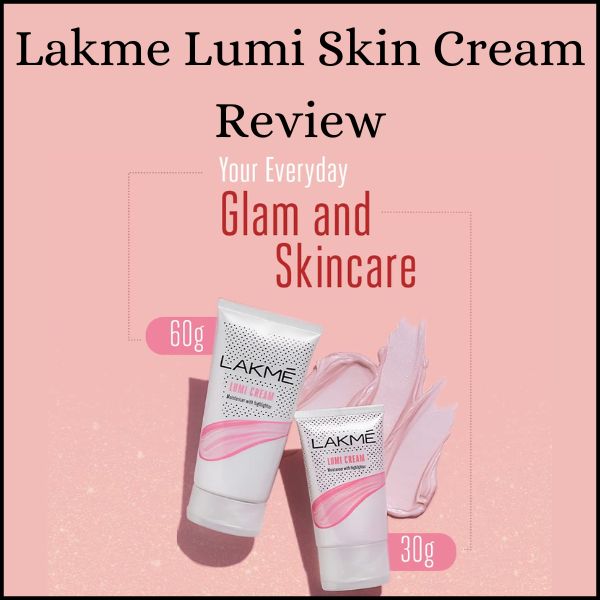 Product Description ( Lakme Lumi Skin cream )
With the wedding season round the corner, one will really want that glow that makes her stand out from others and with this lumi cream your desire is really fulfilled. This cream enriched with hyaluronic acid and Vitamin B3. It gives the perfect radiance and moisture without making your face look oily or whitish. You will not need to add layers of makeup after this cream since it gives the within kind of glow.
यह आर्टिकल भी पढ़ें -> Dr Sheth Ceramide and Vitamin C Sunscreen – Review
One can also use it in normal day to day office or brunch look, as it claims it really gives u a 3D highlighted glow and the best part is people with oily skin can also opt for it without giving a second thought as it is very light on the skin and does not make your face look greasy.
Price – Rs.299.00 for 30 gm , Rs.549.00 for 60 gm
Check out Discount / Offer
यह आर्टिकल भी पढ़ें -> Best Cleansing Oils
Texture and skin type ( Lakme Lumi Skin cream )
Lakme Lumi Skin cream is a gentle moisturiser and it absorbs quickly inside the skin with a glowing highlighted finish. The texture of this cream is creamy and It does not leave any stickiness or oily finish which I liked the most about this cream because I have an oily T-zone. Also tried it with cc cream and daily foundation for strobing effect and the finish was impressive. I didn't found any breakouts on my face after its regular use. It is ideal for all skin types.
यह आर्टिकल भी पढ़ें -> Best Body Sunscreen in India
My Experience of Lakme Lumi Skin cream ( Review )
Lakme products are one of the best products on Indian market. I have never come across a product like this which is so amazing. Lakme Lumi Skin cream is a great combination of moisturizer nd highlighter. My younger sister suggested me for this. Using Lakme Lumi Skin Cream Moisturizer and Highlighter combo from sometime and have seen the changes in my look while I use this.
यह आर्टिकल भी पढ़ें ->Lip Lightening | Dark Lips | Lip Pigmentation (Medicated Lip Creams)
I just changed the perspective of the makeup and let it give a 3D look also it highlights my beauty and enhances it to a great extent. For women who wants a natural glow without using makeup on daily basis, the new Lakme lumi cream is a rescue. I can say it is a nearest dupe to mac strobe cream but it has little big glitter as compare to mac but a great product for beginners and college going students.
I have both mac and now I have Lakme Lumi Skin cream. I use mac occasionally and now I will use Lakme for daily makeup as it is pocket Friendly product. You can also use it as a moisturiser with no makeup on. It also has mild citrus fragrance.
यह आर्टिकल भी पढ़ें -> Casmara Facial Kit & Casmara Algae Peel off Mask – Review
After using Lakme lumi skin cream I have found it is very suitable for my skin, perfectly designed for all skin tones. This product performs the double duty of lightweight moisturizer as well as highlighter. It is good for people who does not like to put heavy make up on daily basis as they can get glow on using this single product only. It instantly lifts out the skin making it look healthy as well as awesome. The product can also be used as a foundation being perfect base for makeup.
For instant 3D glow on skin anytime, anywhere with efficiency and effectiveness, I found this product very wonderful. I am very glad using this product.
यह आर्टिकल भी पढ़ें -> Dot and key Sunscreen – Review
Beautifully sheer texture, Pinkish formula gives you quick glossy look you can use as a Highlighter. My skin literally glows after applying Lakme Lumi Skin cream. I am using it on daily basis and I am amazed. I even got compliments from people. I am definitely buying few more of these tubes in advance.
I carry it with me wherever I go. It gives perfect party look within a second with highlighter and benefits for skincare. No harmful chemicals, lightweight, non-greasy, easy to apply, no chunky particles. All you get is super dewy finish for a healthy looking skin.
यह आर्टिकल भी पढ़ें ->Simple Mehndi Design – New 2023
Recommendation of Lakme Lumi Skin cream
Lakme Lumi Skin cream really gives effective glow to the skin, I really like this product a lot. Lakme Lumi Skin Cream gives shinny and soft texture to my face, I used this product daily it is really suits to my skin and the main part is it is non sticky, very light cream to my skin type. I have purchased this product for the first time and I am really very impressed with this cream. It is very premium cream with a nice affordable price ever seen. This cream has given me the completeness of looking great in any party I have gone yet with it.
It is a Single Product with 2 benefits at the same time. I am carrying this cream all the time and this is the Cream which I want. I am Completely satisfied with this Lakme Lumi Skin cream.
यह आर्टिकल भी पढ़ें ->The Derma Co Sunscreen – Review
Lakme lumi skin cream is best cream for face highlighter and glow on face. This cream gives 3D glow on face because of its highlighter & moisturizes features. Lakme Lumi Cream gives best of skincare and makeup due to its shinning textures.
Lakme Lumi skin cream is light weight moisturizing cream with hint of highlighter. It gives skin instant glow. Lake me Lumi cream is designed for all types of skin tones & suitable for all skin types. It is easy to use just apply in dots on face & neck & gently blend using finger tips.
यह आर्टिकल भी पढ़ें -> Innisfree Intensive Triple Shield Sunscreen SPF50+ PA+++ ( REVIEW )
Pros
– Gives a nice glow and moisturise the skin.
– Good at this price.
– Suitable for all skin types
– Travel friendly
– Budget friendly
यह आर्टिकल भी पढ़ें -> Garnier Vitamin C Serum Review
Cons
– Lakme Lumi Skin cream has just a little big particle otherwise it great cream for daily wear.
Check out Discount / Offer
यह आर्टिकल भी पढ़ें -> Cetaphil Bright Healthy Radiance Night Comfort Cream ( Review )