Dr. Sheth's Haldi & Hyaluronic Acid Oil-Free Moisturizer (Dr Sheth Moisturizer Review )
I was using before Neutrogena hydro boost for a very long time and I needed a change and also did not want to spend money on expensive Clinique moisture surge because my skin is really sensitive so i thought of using of Dr. Sheth's Haldi & Hyaluronic Acid Oil-Free Moisturizer. I have used this moisturizer for a month and giving you my honest experience on this moisturiser.
Product Description
Dr. Sheth's Haldi & Hyaluronic Acid Oil-Free Moisturizer is dermatological formulated and tested. It is free of fragrance, parabens and sulphates. It claims it has a lightweight gel kind of texture. Best thing it is enriched with haldi and hyaluronic acid which is best for our skin. Dr Sheth Moisturizer contains turmeric and hyaluronic acid.
यह आर्टिकल भी पढ़ें ->Dr Sheth Ceramide and Vitamin C Oil Free Moisturizer – Review
Turmeric is great for skin as it is antibiotic and helps in treating acne and pimples. Also hyaluronic acid is great for skin which gives deeply hydration and plum to your skin. It also has cica extracts which calms irritated skin and fights dullness and brightens skin While aquaporin boosters gives hydration and locks moisture. It is great for oily and combination skin type people, people with dry skin can also use it.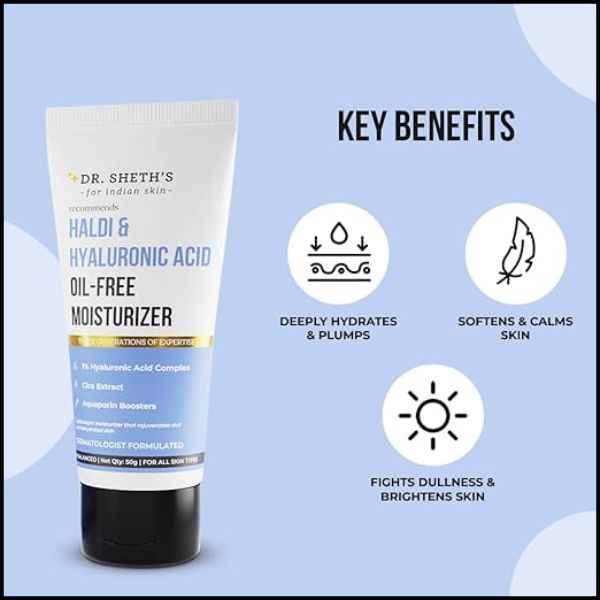 Dr. Sheth's Haldi & Hyaluronic Acid Oil-Free Moisturizer Ingredients list
Purified Water, Glycerin, Carbomer, Haldi Beads,Sodium Hyaluronate, Glyceryl Glucoside,Phenoxyethanol, Ethylhexylglycerin,Sodium,Hydroxide, Sodium Gluconate, Cica Extract, 1,2-Hexanediol
यह आर्टिकल भी पढ़ें -> Casmara Facial Kit & Casmara Algae Peel off Mask – Review
How to Use Dr. Sheth's Haldi & Hyaluronic Acid Oil-Free Moisturizer
A coin size amount is enough to cover your entire face and neck. As you massage it into your cheeks, the bouncy gel melts into a clear liquid that is ultimately absorbed and leaving you with smooth, supple skin that stays hydrated for hours.
This moisturizer is a light weight and non-sticky formulation. I like its mild fragrance very much. Dr Sheth Moisturizer also contains turmeric beads and we know very well that Turmeric is considered to be antibacterial and a potent ingredient for skin lightening and revealing glow.
यह आर्टिकल भी पढ़ें -> Best Cleansing Oils
Apply a coin-sized amount on your face and neck post cleansing and toning your skin.
Recommend using this moisturizer in both your AM and PM routines.
Derm Tip Great for oily skin-layer post peels or Salicylic Acid treatments.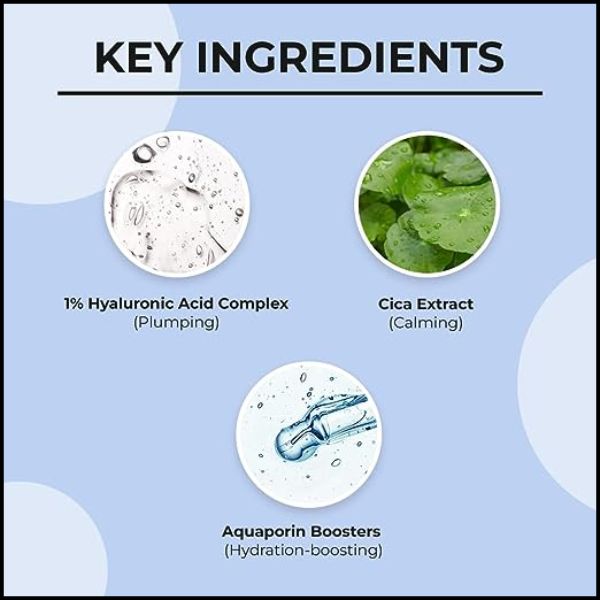 My Honest Experience on Dr. Sheth's Haldi & Hyaluronic Acid Oil-Free Moisturiser (Review)
I brought Dr. Sheth's Haldi & Hyaluronic Acid Oil-Free Moisturizer product as I was planning a hill station trip with my friends. I was afraid my skin would become too dry so my friend suggested trying moisturizer, When I found it along with the Haldi combination was excited to use this moisturizer.
यह आर्टिकल भी पढ़ें -> Dot and key Sunscreen – Review
Moisturizer with haldi and hyaluronic acid combination is really great and Dr Sheth Moisturizer is a dermatologist formulated that rejuvenates dull and dehydrated skin by Dr Sheth. 1% hyaluronic acid with aquaporin extracts that elevates water absorption in skin well.
Dr. Sheth's Haldi and Hyaluronic acid oil- free moisturizer is perfect for my skin. Being dermatologist formulated it is lightweight and non – sticky on skin . A gel based moisturizer, providing my skin deep hydration with aquaporin boosters and proper antibacterial nourishment, it have brighten my skin after continuous use. The skin feels very smooth after applying Dr Sheth Moisturizer.
यह आर्टिकल भी पढ़ें ->Lip Lightening | Dark Lips | Lip Pigmentation (Medicated Lip Creams)
How Dr Sheth Moisturizer Helps
Also moisturising effect by it helps in maintaining and protecting skin barrier and repairs it too. Skin health have enhanced and my skin pigmentation is reduced too. It have provided my skin a glow . Now my skin is more smooth and flexible.
It has proved to be an all-round moisturizer for my skin, fulfilling all essential requirements for my skin. Such a good moisturizer I have used in a while. After applying, does not feel anything on face, so smooth and light, highly recommended.
यह आर्टिकल भी पढ़ें ->The Derma Co Sunscreen – Review
The consistency is so good and I have combination-oily, super acne-prone, sensitive skin and this is the first moisturiser that did not cause me any acne on first application, otherwise my skin breaks to new products at first and then get used to of the product. But this Dr Sheth Moisturizer did not do it on the first application even.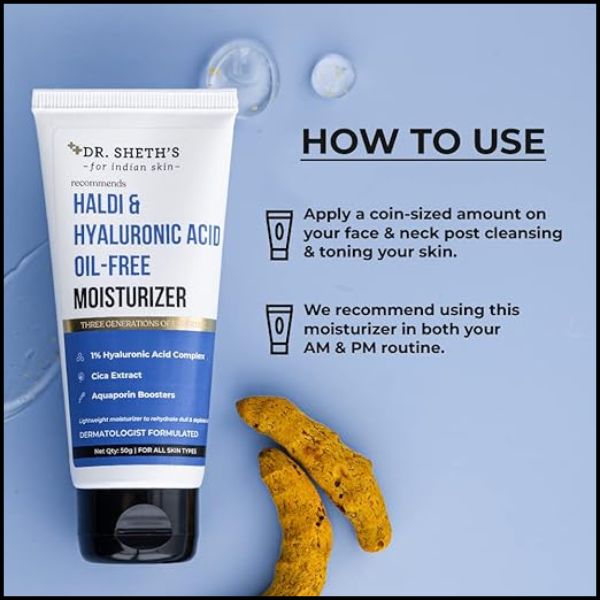 Takes about a minute to blend though but is absolutely non-sticky and do not sting the eyes. The smell was mild and long-lasting.I have oily/combination, acne prone skin, this Dr Sheth Moisturizer helps control the sebum production also. Dr. Sheth's Haldi & Hyaluronic Acid Oil-Free Moisturizer is the holy grail for super oily skin.
यह आर्टिकल भी पढ़ें ->Lip Pigmentation and Dark lips – Lip Balm
I have also tried minimalist, Neutrogena, and ponds light weight moisturizer. All of them made my skin sticky right after application. This one made my skin supple and will controls the oil for 6-7 hours. I have been using this from 4 weeks results are awesome.
I have found Dr. Sheth's Haldi & Hyaluronic Acid Oil-Free Moisturizer is my dream moisturizer and I am never going back to the old ones ever again.
यह आर्टिकल भी पढ़ें -> Best Body Sunscreen in India
Cica is a magic ingredient immediately cleared my skin irritations like little tiny rashes or future pimple bump. I used it after applying a BHA treatment for future acne bumps and I cannot tell you how amazing it worked like literally no kidding. This will be a my constant.
My oily skin needed this made in India product. The hyaluronic acid and cica extract repairs the damage caused by pollution and makes the skin bouncy and plumpy. The gel texture gets absorbed in the skin so easily. Definitely recommended to all.
यह आर्टिकल भी पढ़ें -> Dr Sheth Ceramide and Vitamin C Sunscreen – Review
Price –
Rs.349 for 50 gm
Pros
It is light weight and gets quickly absorbed to skin.
Non-sticky and greasy formulation.
Fragrance free , parabens free and sulphates free.
It is suitable for all skin types specially oily skin people.
Travel friendly and pocket friendly too.
Moisturer with haldi and hyaluronic acid combination which deeply hydrates and moisturises the skin.

Final Remarks
Highly recommended the Dr. Sheth's Haldi & Hyaluronic Acid Oil-Free Moisturizer . It works wonders to your skin. Good moisturiser with calming properties. How was the above Dr Sheth Moisturizer review, let us know in the comments.
यह आर्टिकल भी पढ़ें ->Simple Mehndi Design – New 2023