---
Does INNISFREE ALOE REVITAL SOOTHING GEL work?
Those who are looking for Innisfree aloe vera gel review, your search ends here.
Here we have tried to aware of the use Innisfree aloe vera gel by doing review. Also, some information about Innisfree aloe vera gel side effects.
I have shared here my honest review of Innisfree Aloe Revital Soothing Gel, I hope you people like it. This is one of the best Aloe gel, especially for all skin types. It is water-based so it feels like nothing when you apply it. It reduces any sign of irritation. The Innisfree Aloe Vera Gel is clear transparent and does not have any fragrance. The formula is thin, non-sticky, non-greasy, it is very smooth on your skin and spread easily. I love how Innisfree aloe revital soothing gel calms down my skin and leaves it soft, gentle, and hydrated.
Aloe Vera is the queen of moisturising properties but with some green tea and Centella Asiatica derivative by its side, innisfree aloe revital soothing gel is ready to overtake the universe.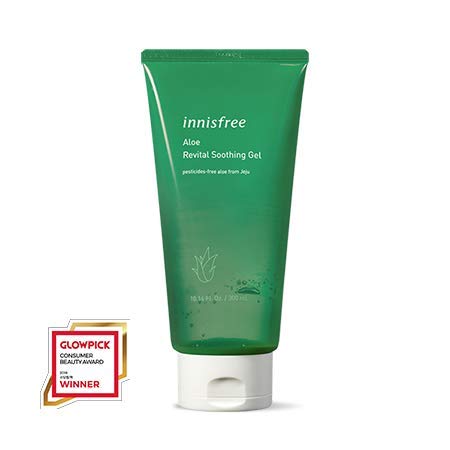 BENEFITS
Soothing, gentle on the skin, and hydrating
Softening, cooling, and calming properties.
It can be used on the skin as well as hair.
Prevents acne and breakouts
Product description
Innisfree Aloe revital soothing gel contains 93% of the extract of Jeju Aloe organic. The leaves contain more amino acids and moisture than its leaf and any other parts of Aloe., which helps suit the skin damage from UV rays and heat while providing intensive moisture to the skin. Innisfree Aloe revital soothing gel is free of colorant, Mineral oil, and artificial fragrance.
Additional Tip
I like to add two drops of rosehip seed oil or almond oil into the gel and mix it well to give a more hydrating effect on my skin. This combination works really well to treat acne marks and dark spots.
Packaging
Innisfree aloe vera soothing gel comes in a simple, huge, green colour tube with a black flip cap, while the tube is certainly convenient to use but the bulky 300 ml packaging size makes it not travel friendly. You can use it for 5 to 6 months at least.
All the product details are mentioned on the Tube of Innisfree aloe soothing gel itself.
Price:
Innisfree aloe revital soothing gel costs INR Rs.550/- for 300 ml.
How to use:
Apply an appropriate amount of Innisfree aloe vera gel on dry areas on the face for a soothing effect and it can also be used on your hairs and legs and spread evenly use often as you needed. Those who have very sensitive skin type, before using the Innisfree aloe vera gel, it is always best practice to do testing on the soft skin part of your arm. This will help you from becoming victim of Innisfree aloe vera gel side effects, if any.
My experience
This is one of the best Aloe gel that I have tried, Innisfree aloe vera gel absorbs into the skin instantly it does not sit on the top of your skin or form filmi Residue, it actually hydrates the skin from within while giving a semi- Matte finish. Innisfree Aloe Vera Gel is perfect for all skin types.
Cons:
As per my views, there is nothing to mention here.
Rating:
5/5
Recommendation:
I definitely recommended Innisfree Aloe Vera Gel to everyone and it is best suited for all skin types. Thumbs up for the product. This is a must-have for almost all of you out there. Innisfree Aloe revital soothing gel is a must-buy product.

If you have liked this article on Innisfree aloe revital soothing gel, please let us know with your valuable inputs in comments section below.
---
---
---