Gaming in India is not a new thing but it has its roots from the 2000's but a certain kick in 2019-20, which boomed the online gaming companies in India. We can say it due to internet availability and the technology development the online gaming companies in India has grown very fast.
These online gaming companies have significantly developed online games that provide you opportunities to earn real cash money by playing games online. One can find the Best Gaming Phones under 15000 in India (September 2020) and the Top list of real money earning games in India – eSports here.
Indian Online Gaming Scenario
In the past we had professional gamers in India who used to play games on a global scale as well be it console or a PC gamer. But in the past few or a couple of years due to the combination of internet and device ( mobile) gaming has raised its graph drastically which helped in spreading wings by online gaming companies in India. And because of this India has become the ground where the gaming industry has started to increase its diameter and is capturing and creating a Market. We can say that mobile gaming has brought the global gaming industry to India.
Nowadays more people are aware of the gaming industry that it is a whole new world of opportunities for gamers as well as online gaming companies in India. But for those who don't know about it I am here to make it easy for you the understand the concept of the Indian gaming industry.
Here I am going to talk about some basic stuff about gaming which many of you might not know or don't have clear information.
Types of Online Game
Gaming can be divided in two groups online gaming and offline gaming and games can be based on certain platform and following are some examples:
• App based
• Browser based
• Pre loaded or games purchased via offline channel .
On these platforms games can be played on certain types of devices .
• Consoles
• PC( computers)
• Mobiles/ tablets
And based on these devices and platform games are being played online and offline.
Games based on the browser can only be played online while app-based and preloaded games can be played online and offline as well. These are basically market opportunities for online gaming companies in India. But these online gaming companies in India give you a chance to earn real cash money.
Indian Gaming Market Size – Opportunities for Online Gaming Companies in India
Here I am going to talk about online gaming in India which currently is the hottest and growing market in India and has a bright future in India. The online gaming companies in India take benefits of this to grow their business.
Currently, the Indian gaming market stands at USD 290 million but it is estimated that by 2021 it will be at USD ONE billion. This estimation is calculated by the current growing gaming on the Indian market. On the other side it is estimated that more than 190 million gamers are going to add up in the upcoming future. In FY 2019, online gaming in India was estimated at ₹6,200 crore market with an estimated 300 million gamers (source). So for the youth and the people with good gaming sense and skills have a great future in the online Indian gaming market. Gamers and online gaming companies in India, all are seeing the bright side of their future.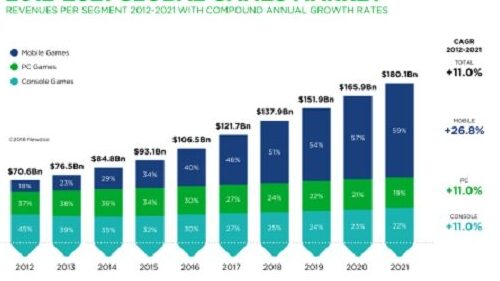 Image Credit: Newzoo
The global games market is expected to grow from $137.9 billion in 2018 to more than $180.1 billion in 2021, according to market researcher Newzoo.
Currently India is considered as the youngest country because the majority population of India is of youth. And for a Gamer profile India is the most suitable country.
Average Age of Gamer
According to the study , an average Gamer is of age group between 14-24. In professional gaming, the age of 14-24 is considered to be best to make a place in the Indian online gaming community.
Coming to online gaming and online player, online gaming is majorly done or played in some formats. The online gaming companies in work on it to deliver best to their players in India.
Online Gaming Player's Format
• Single player where only one player plays the game
• Multiplayer where more than one players are engaged in same game or surrounding
• Massively multiplayer where hundreds and thousands of people play simultaneously in the same environment. So u have basic information about what is online gaming but what about its future in India.
Currently India has a majority in mobile online gaming. If I say mobile gaming only has changed the whole perception about gaming in India. Online gaming companies in India knows this very well. Also, nowadays more and more people have information about the gaming industry and its role in the market.
Some basic Stats on Online Gaming in India
• As u know online gaming can be played in multiple formats and on various devices be it mobile or PC or any other gaming console.
• An average gamers spends 55 average minutes a day in online gaming.
• There is an average data consumption of 800 MB in online gaming in a day.
• As we talk about device preference there are 88% mobile players, 10% PC and 2% tablet players across the industry.
Upcoming developments by Companies and opportunities in Indian Online Gaming
As the gaming market in India is continuously growing many international gaming organizations have started to roll into Indian markets and have begun to stabilize themselves by various events and promotion strategies. There is a vast sea of opportunity for hardcore gamers and for those too who want to make their future in the gaming industry because these gaming organizations always hire a good and serious player. These organizations provide job opportunities for those who love gaming and are serious about it. The growth of Online gaming companies in India depends on the participation of more and more gamers.
Final Remarks
So if you really want to become a professional online gamer or an eSports athlete you must start grinding and keep sharpening your skills in multiple games these organizations will reach up to you.
So above are just some basic information about online gaming and it's future in India. Online gaming companies in India have brought great opportunities to gamers who want to grow big, earn real cash money, and become an eSports athlete. To know more about the gaming industry or eSports scenario please do follow us and we will keep you informed.
Let us know in the comments about your queries.
You can check out the Best Gaming Phones under 15000 in India (September 2020) and the Top list of real money earning games in India – eSports here.
---
---
You May Also Like
---
---
---
---
Recent Posts
---