I just love most of the products from Dr Sheth's collection. Dr Sheth is a luxury, vegan, skincare brand made for skin of color by three generations of Indian skin doctors. Here we will be reading the Dr Sheth Face Wash Review.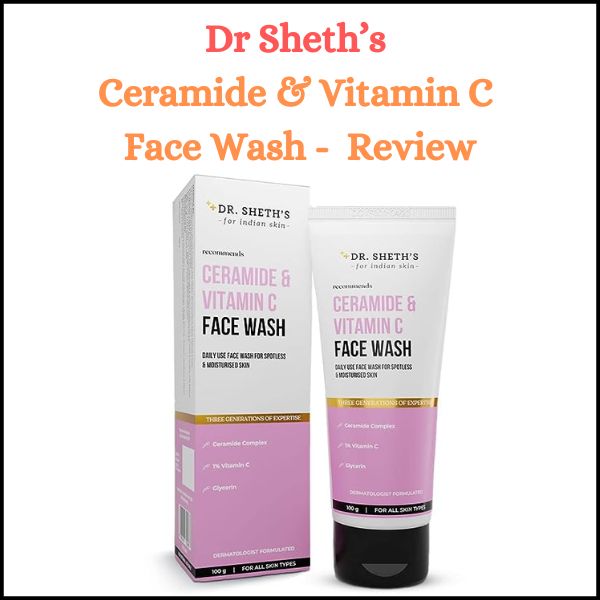 Description of Dr Sheth's Ceramide & Vitamin C Face Wash
Dr. Sheth's Ceramide & Vitamin C Face Wash has three main key ingredients which has Ceramide Complex gives Strengthens and repairs the skin Barrier while the Vitamin C Complex fades the dark spots, blemishes and brightens gives glow to the skin and glycerin which instantly hydrates, moisturises and makes skin-spot free. It brings natural glow and it's creamy texture keep the skin soft.
यह आर्टिकल भी पढ़ें -> Casmara Facial Kit & Casmara Algae Peel off Mask – Review
My Experience and Recommendations on Dr Sheth Face Wash Review
Dr. Sheth's Ceramides and Vitamin C face wash Benefits?
Dr. Sheth's Ceramide & Vitamin C Face Wash has truly elevated my skincare routine. The blend of ceramides and Vitamin C offers a refreshing cleanse while maintaining skin's moisture barrier. The formula feels gentle yet effective, leaving my skin clean and rejuvenated.
I've noticed a visible improvement in my skin's texture and brightness. The product is good. It is fragrance free, lathers well and very gentle on skin. It is become an essential step in my daily regimen for achieving a radiant complexion and it removes all dirt and also fades out pigmentation nd dark spots form skin .
यह आर्टिकल भी पढ़ें -> Cetaphil Moisturiser Review
This is such an amazing facewash, helps deep cleansing my skin and nourishes it well as vitamin C is good for skin which makes skin spotless & moisturised. It suit all skin types.
This face cleanser was actually recommended to me by a friend. It is my first buy but after using it, I am totally satisfied with this Dr Sheth Face Wash Review. After using it for a few days I'm in love with this face wash. I honestly didn't expect to be calling a product from a dermat brand "luxurious" but that's what it is.
It has such a great texture which is so creamy, but the amazing thing is that it still cleans so effectively and never overdried or stripped my skin. I Would definitely recommend you all.
यह आर्टिकल भी पढ़ें -> Dot and key Sunscreen – Review
Dr. Sheth's Ceramide & Vitamin C Face Wash Ingredients list –
Myristic Acid, Glycerin, Aqua, Potassium Hydroxide, Propylene Glycol, Stearic Acid, Decyl Glucoside, Lauric Acid, Glycol Distearate, Xylitol, Glucose, Anhydroxylitol, Phoenix Dactylifera (Date Palm) Extract, Sodium Ascorbyl Phosphate, Sodium PCA, Glyceryl Stearate, Phenoxyethanol, Glyceryl Glucoside, Polyquaternium-7, Sodium Metabisulfite, Titanium Dioxide, Ceramide, Pentaerythrityl Tetra-di-t-butyl, Hydroxyhydrocinnamate, Butylated Hydroxytoluene and Disodium EDTA.
यह आर्टिकल भी पढ़ें -> Best Cleansing Oils
Texture and suitability
Dr. Sheth's Ceramid and Vitamin C face wash for oily skin?
Dr sheth's ceramide and vitamin C facewash is creamy texture forms up too much and deep cleans the skin and even on using first time to your skin really feel very smooth and soft. It is a gentle cleanser just like whipped cream and keeps the skin squeaky clean and glowing.
यह आर्टिकल भी पढ़ें -> Best Body Sunscreen in India
This is a great option for people with oily or acne prone skin and for sensitive skin types. It requires a very Little amount to clean your face. I use it for every alternative day and night time.It brings natural glow and it's creamy texture keep the skin soft.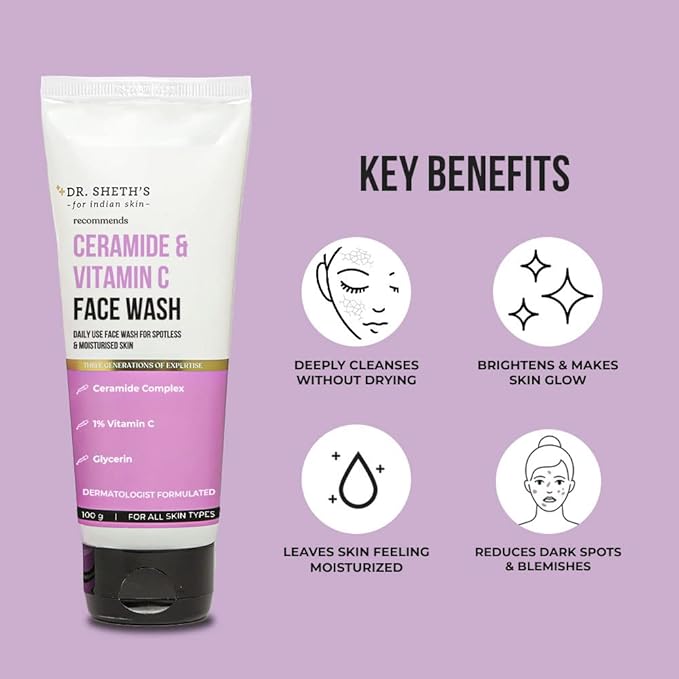 Price –
Rs.349 for 100 gm
यह आर्टिकल भी पढ़ें ->Lip Pigmentation and Dark lips – Lip Balm
Pros
It suitable for all skin types
Affordable
Helps deep cleansing the skin and nourishing
Travel friendly
Free from fragrance, parabens and sulphates.
Dermatologically –
Formulated & Tested
Final Remarks
I loved this Dr. Sheth's Ceramide & Vitamin C Face Wash, the smell is kind of unpleasant but it definitely removes tan and gives a glow to the skin. It is nice specially for oily skin type.
I will repurchase it. Amazing product, does what it claims. Been using it since 6 months now, this was my 3rd purchase, totally in love with it. So affordable and such good product and worth buying.
I hope you have found this Dr Sheth Face Wash Review useful.
यह आर्टिकल भी पढ़ें ->Lip Lightening | Dark Lips | Lip Pigmentation (Medicated Lip Creams)