Dot & Key Barrier Repair Ceramides & Hyaluronic Hydrating Face Cream With Probiotics ( Moisturizer Review )
Product Description
Dot and Key definitely is ruling the skin care market. All their dot and key products are super affordable, beautiful combination, fair quantity, great packaging and does what it claims unlike other skin care brands . Dot and key has been my favourite brand in skin care. Most of my products from eye cream to sun screen are from dot and key.
I have been searching for a moisturizer for a long time personally I do not like a matte finish or thick consistency moisturizer for skin care. Dot & Key Barrier Repair Ceramides & Hyaluronic Hydrating Face Cream is Best Indian cream for all skin types. As it claims it contains 5 essential Ceramides in it, which Repairs skin barrier function to boost skin resilience , Hyaluronic acid Binds water molecules skin deep to boost hydration and deep moisturization.
And Probiotic chemistry promotes good bacteria to balance skin microbiome level while Japanese rice water soothes inflammation, dry, rough patches ,redness and irritation. It is for Compromised Skin Barrier, dry Stretchy Skin and for Dehydrated Skin. It is suitable for skin type dry to very dry and sensitive people.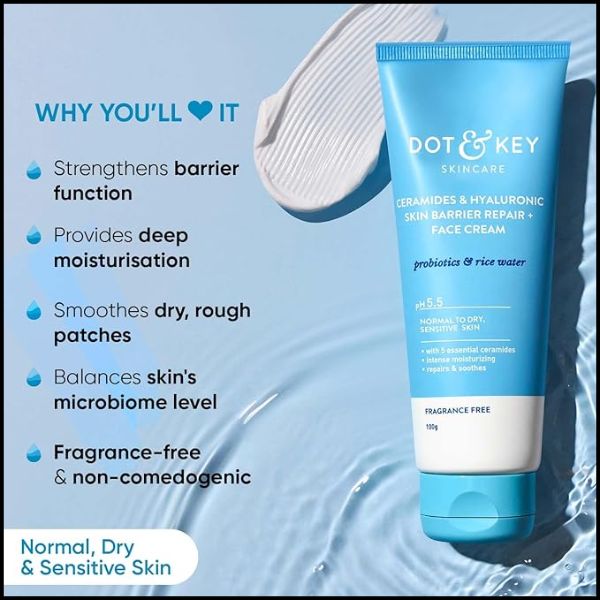 Dot & Key Barrier Repair Ceramides & Hyaluronic Hydrating Face Cream Ingredients list
Aqua, Caprylic Capric Triglyceride, Glycerine, Glyceryl
Stearate, PEG-100 Stearate, Cetyl Alcohol, Ceteary
Olivate, Sorbitan Olivate, Dimethicone, Dimethicone
Crosspolymer, Cyclopentasiloxane, Hyaluronic Acid,
Laminaria Digitata Extract, Cetyl – PG Hydroxyethyl
Palmitamide, Ceramide 1, Ceramide 2, Ceramide 3,
Ceramide 4, Ceramide 6 Il, Tocopheryl Acetate,
Polyglutamic Acid, Lactobacillus, Maltodextrin, Oryza Sativa (Rice) Bran Water, Cocos Nucifera (Coconut)
Oil, Olea Europaea (Olive) Fruit Oil, Simmondsia
Chinensis (Jojoba) Seed Oil, Stearic Acid, Sodium
Polyacrylate, Dicaprylyl Carbonate, Polyglyceryl-3
Caprate, Xylitylglucoside, Anhydroxylitol, Xylitol, BHT,
Sodium Hydroxide, Xanthan Gum, Disodium EDTA,
C14-22 Alcohols, C12-20 Alky| Glucoside, Benzyl
Alcohol, Ethylhexylglycerin, Tocopherol.
यह आर्टिकल भी पढ़ें -> Casmara Facial Kit & Casmara Algae Peel off Mask – Review
Texture and skin type
The texture is amazing and perfect for summers. The texture is very light weight non greasy that the skin absorbs completely. It is fragrance free and really helps to repair any dry patches from within. To some extent it has helped introducing pigmentation also.
The texture and ingredients match with Dr. Reddys moisturizer for dry to very dry skin, so this is an alternative which saves the cost. Dot & Key Barrier Repair Ceramides & Hyaluronic Hydrating Face Cream makes my skin hydrated and does not strip it off of its natural oils either. This is one of those creams that you can use for slugging and for the sandwhich method with actives like glycolic acid.
My skin never burns when I layer it with this before applying glycolic acid or any other active ingredients. Its prescribed for dry to very dry skin but it works so well on my combination (mostly oily) skin. I use it as a night cream and it repairs my skin barrier very well. My skin feels more hydrated than ever and my patchy skin gets evenly textured.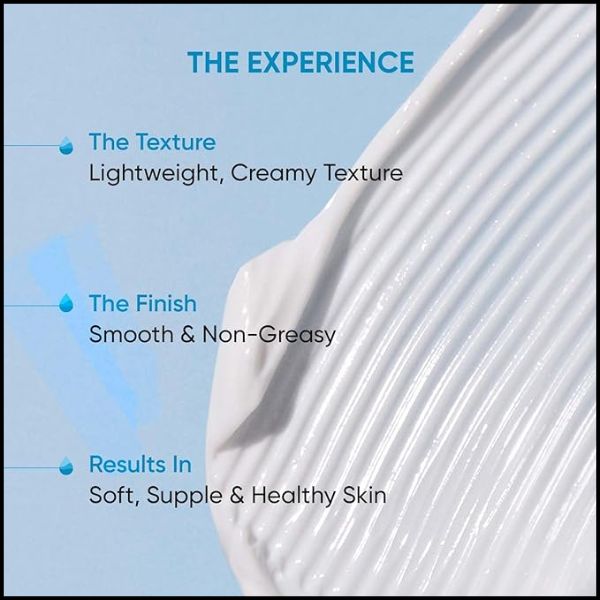 How to Use Dot & Key Barrier Repair Ceramides & Hyaluronic Hydrating Face Cream
-Dot the cream on your whole clean face and neck.
After that Massage gently in an upward motion.
Follow it up with applying a dot and key sunscreen.
Use twice daily for AM and PM routine.
यह आर्टिकल भी पढ़ें -> Dot and key Sunscreen – Review
Price –
Rs. 395 for 100 gm
My Honest Experience on Dot & Key Barrier Repair Ceramides & Hyaluronic Hydrating Face Cream
First of all, I have dry/Combination Skin Type. Honestly i was so confused while ordering this moisturizer as it claims that it is meant for dry skin people but but when I applied this moisturizer on my face, my dry skin absorbed this moisturizer very quickly and made my face so soft and non oily.
यह आर्टिकल भी पढ़ें -> Best Cleansing Oils
This Dot and Key Moisturizer is bliss for dry skin. I am in so love with it. It is very light weighted and gets absorbed into the skin very quickly. It perfectly repairs skin barrier and provides deep hydration. It is also providing intense moisturization. It soothes irritation and redness. My skin became so clear, plump and hydrated. It is genuinely fragrance free & so light weight like a butter. After application it does not feel heavy on the skin.
I purchased this moisturiser after watching at a lot of Insta reels and reading its reviews. It costed me Rs.336 and it has 100 gms of product which is great. The cream is super hydrating and layer it above my Hyaluronic acid and Niacinamide serum. The product is fragrance free and not greasy at all. My skin type is dry and i think i found the perfect moisturiser which I have been looking for years.
यह आर्टिकल भी पढ़ें ->Lip Lightening | Dark Lips | Lip Pigmentation (Medicated Lip Creams)
The packaging is pretty aesthetic too. Even people with oily skin have used this and told me it's really good. It wears really well even in hot humid weather and goes beautifully under makeup. Helps with reducing the open pores on the skin as well.
I can honestly say this, as l have used many high end brands to soothe my skin-barrier after I wrecked it by applying harsh chemical peel. This Dot and Key Moisturizer is unbearably brilliant. You might sweat a bit, but that is cool by me. The product itself is like magic, I have not touched my bioderma baume, cicabio creme or cetaphil for a month now and I am doing better actually. If this Dot and Key Moisturizer keeps working like this, I will never buy any expensive moisturiser and will save bucks for sure.
यह आर्टिकल भी पढ़ें -> Best Body Sunscreen in India
Recommendation on Dot & Key Barrier Repair Ceramides & Hyaluronic Hydrating Face Cream
Omg Dot & Key Barrier Repair Ceramides & Hyaluronic Hydrating Face Cream is my dream moisturizer been waiting for this entire lifetime. My go to product. Such a wonderful formulation. I have used several products but all left pimples irritation inflammation on my skin leaving my ski barrier highly compromised. This Dot and Key Moisturizer has been a life saving product. The glow, bounce hydration is beyond expectations.
Truly a international quality at an extremely affordable price. More than happy. It is a soulmate for my skin. Never seen my face so glowing in years. Grateful to dot and key. A must try is their sunscreen from their range. I Will order it again and Very useful does whatever it claims too. I am quite pleased with my purchase. I do recommend this Dot and Key Moisturizer product to all .
यह आर्टिकल भी पढ़ें ->Lip Pigmentation and Dark lips – Lip Balm
Pros
This ceramides and hyaluronic skin barrier repair face moisturizer is best moisturizer for combination to dry sensitive skin.
It has light consistency. It has probiotic and rice water.
It does not contain fragrance overall a decent product.
Travel friendly and budget friendly.
love the packaging.
Really good a moisturiser Keeps your skin moist for longer.
It Does not break me out even during summers, Quite thick but non comedogenic.
Cons
-It gets messy around the cap area and wish it came in an airless pump but overall an amazing product indeed and deserves more hype.

Final Remarks
I highly recommend this Dot and Key Moisturizer product for anyone who is facing any kind of skin irritation. It improves your skin barrier and soothes your skin. I am definitely going to repurchase this. How useful was this Dot and Key Moisturizer review, do share with us in comments below.
यह आर्टिकल भी पढ़ें ->Simple Mehndi Design – New 2023