Top 5 Life Changing Patanjali Beauty Products
As we all know Patanjali is one of the most emerging company that has come out as a prominent brand in India. It has not only introduced effective but also anti chemicals and hundred percent ayurvedic products. Patanjali beauty products that have been used in many families more prominently. Some of its products are Life Changing. They have really worked for everyone. I would like to share my marvellous experience from top 5 beauty products of my list.
Aloe Vera Gel
Patanjali Aloevera Gel as Patanjali beauty products has really changed a lot of things for me. It has helped me in dealing with my tanned skin. It keeps the skin moist and hydrated as well. I'll give a thumbs up to Patanjali Aloevera gel.
How to use Patanjali Aloe Vera Gel
Massage your face with Patanjali Aloevera Gel before bedtime and leave it on your face overnight. You will find an amazing glow on your face next morning.
Apply it on your face and hands before going out. It will not only moisturize your face but also will protect you from sun tan.
You can also use Patanjali Aloevera Gel on your hair. Just simply massage your hair with Patanjali Aloevera Gel 15 minutes before going to bath.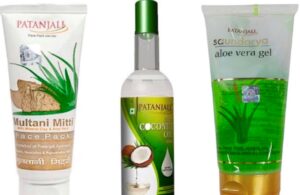 Patanjali Divya Gulab Jal
Patanjali Divya Gulabjal works as a tonic for the skin. It removes dirts from your face and gives a fresh look. Now you all would be wondering why only Patanjali Divya gulab jal and why not Dabur gulabari? So, the answer is hidden in their ingredients. In a 10ml bottle of Patanjali Divya gulab jal, you will get 10 ml gulab jal. This shows its purity. And next, if you check the ingredients of Dabur Gulabari then you will find many harmful chemicals in it. So this is why I am a big fan of Patanjali Divya Gulab Jal.
How to Use Patanjali Divya Gulab Jal?
Take a small piece of cotton and add a few drops of Patanjali Divya Gulab Jal in it. Now wipe your face with it. You can do this twice a day to remove excess of oil from your face.
Patanjali Strawberry Lip Balm
I have been using Patanjali strawberry lip balm one of Patanjali beauty products from last 1 year and I have found an amazing change in my lips. It keeps the lips hydrated and gives a slightly natural pink texture. If you are facing the problem of dry lips then you must go for it. You can use it regularly.
How to use Patanjali Strawberry Lip Balm
Apply this lip balm under your lipstick to keep your lips moisturized.
You can also apply it before bedtime.
Patanjali Virgin Coconut Oil
This is one of the best oil I have ever used. It is not only used for your skin but you can also use it for cooking. In fact, virgin oil should be preferred over refined oil. Coconut oil has now been proven to be healthiest oil in the world. If compared with other brands then Patanjali Virgin Coconut Oil is also economical in price.
How to use Patanjali Virgin Coconut Oil?
Patanjali Multani Mitti Face Pack
It is a perfect blend of Ayurvedic ingredients such as Aloevera, Gairika, Fuller Earth and more which makes your skin youthful and glowing. This face pack tighten the skin and improves blood flow. I think it's really a must have for all the ladies out there.
How to use Patanjali Multani Mitti Face Pack
Wash your face and wipe it gently. Now apply Patanjali Mulltani Mitti Face Pack on your face and neck evenly using your finger. Leave it on your face for 15 to 20 minutes and then wash it off.
So, these were some of the best Patanjali Beauty Products that I found to be life changing. These products protect your skin from the odds, making it healthy. These are not only safe to use but also economical.
Note: This Blog is not sponsored by Patanjali. It's based on Personal Experience. 
Disclosure: This page contains  few amazon links as we are a participant in the Amazon affiliate program, allowed under this to display or other use of Program Content on site: "As an Amazon Associate I may get some incentive from qualifying purchases."