---
Grooming is an essential part of man's life.  Every man wants to look sharp for an impact impression.  So, When you want to look your very best, Philips has the right grooming solution for you. Philips combines technology with design & the trimmers last up to 4 x longer vs. ordinary trimmers. This Philips Trimmer for men BT1212/15 is designed to be charged with a micro-USB cable. It fully charges in 8 hours and runs for up to 30 minutes. The stainless steel blades are self- sharpening, giving you a hassle-free trim as on day 1.
You may also like to read our article on Best Face Wash for Men of Different Skin Type .
Basic features of Philips BT1212/15 USB charging cordless rechargeable Beard Trimmer
Long Lasting Performance
The Dura Power technology lowers the friction on the blades, which protects the motor and the battery from being overloaded. This way, the battery life of your trimmer is increased by 4 times.
USB Charging
This beard trimmer comes with a USB cable for more flexible charging via your computer or any USB adaptor. The adaptor is not included. As the adaptor is not included you can charge it with various ports like some of the mobile chargers, laptops, or maybe power banks.
Choose beard lengths of 1-5-7 mm or the zero trim look
It comes with the various size of blades by which you can choose your suitable trim type. Use the 7 or 5mm comb to trim your long beard, the 1mm comb to create a 3-day stubble look, or use your trimmer without a comb to have a zero trim.
Skin-Friendly Performance
Blades stay extra-sharp to always cut hairs neatly and effectively and have rounded tips for smooth contact with skin to prevent scratching and irritation
Self-Sharpening Stainless Steel Blades
Get a perfect yet protective trim, time after time. The trimmer's steel blades lightly brush against one another, sharpening themselves as they trim so they stay extra sharp and effective as on day 1.
Battery Charging Indicator
This Philips Trimmer for men BT1212/15 comes with a battery charging indicator which lets you know with a green light that your device is charging.
Easy to Clean
Detach the head and rinse it under the tap for easy cleaning. Dry it before you put it back on the appliance.
Philips trimmer BT1212/15 is a very compact and affordable grooming device for all the boys and men out there.
Some brief details about the Philips Trimmer BT1212/15
Up to 30 minutes of cordless use after 8 hours charging; Cutter width:32 mm
USB charging for convenient use – comes with a USB cable for more flexible charging via your computer or any USB adaptor.
Choose beard lengths of 1-5-7mm or the zero trim look
Long-lasting performance – 2 years worldwide warranty
Skin-friendly blades with a rounded tip to prevent irritation
Detachable head for easy cleaning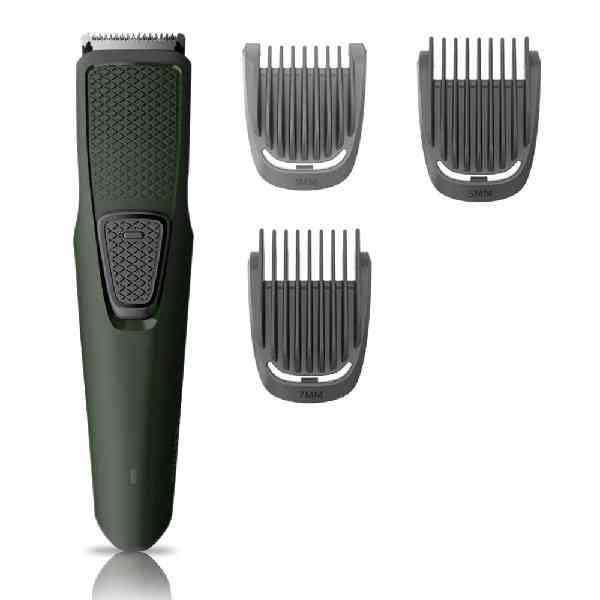 NOTE:
Your groomer requires regular cleaning to function properly. Hair or debris can get stuck in the device and affect its performance. To clean your groomer, take off the attachments and clean the area underneath the attachment. A lot of hair can collect there. If your groomer is washable, you can clean this area with water. If not, clean it with the small brush provided with your groomer or use a cotton bud. Wash and dry the attachments separately before reattaching them to the groomer.
So all the men out there should definitely give a try to this affordable Philips trimmer BT1212/15 trimmer and drop there review to us below in comments or you can suggest to us some more grooming device which you want us to give review.
---
---
---